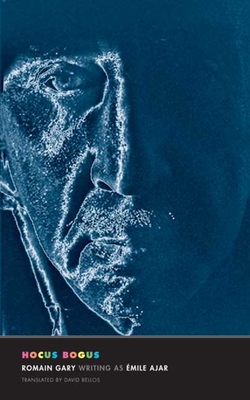 Hocus Bogus (The Margellos World Republic of Letters) (Hardcover)
Yale University Press, 9780300149760, 224pp.
Publication Date: March 2, 2010
Other Editions of This Title:
Paperback (1/14/2020)
* Individual store prices may vary.
Description
By the early 1970s, Romain Gary had established himself as one of France's most popular and prolific novelists, journalists, and memoirists. Feeling that he had been typecast as "Romain Gary," however, he wrote his next novel under the pseudonym Émile Ajar. His second novel written as Ajar, Life Before Us, was an instant runaway success, winning the Prix Goncourt and becoming the best-selling French novel of the twentieth century.
The Prix Goncourt made people all the keener to identify the real "Émile Ajar," and stressed by the furor he had created, Gary fled to Geneva. There, Pseudo, a hoax confession and one of the most alarmingly effective mystifications in all literature, was written at high speed. Writing under double cover, Gary simulated schizophrenia and paranoid delusions while pretending to be Paul Pawlovitch confessing to being Émile Ajar—the author of books Gary himself had written.
In Pseudo, brilliantly translated by David Bellos as Hocus Bogus, the struggle to assert and deny authorship is part of a wider protest against suffering and universal hypocrisy. Playing with novelistic categories and authorial voice, this work is a powerful testimony to the power of language—to express, to amuse, to deceive, and ultimately to speak difficult personal truths.
About the Author
Romain Gary (1914–1980), a French novelist, film director, World War II aviator, and diplomat, was the author of more than thirty novels, essays, and recollections. David Bellos is professor of French and comparative literature and director of the Program in Translation and Intercultural Communication at Princeton University.
Praise For Hocus Bogus (The Margellos World Republic of Letters)…
Runner-Up for the 2011 PEN Translation Prize, as given by the PEN American Center
"Hocus Bogus was written as a hoax, but it's a genuine masterpiece. Hilarious, poignant, and utterly absurd, this book is like nothing you've read before. The brilliant translation by David Bellos captures the wordplay of this madman's memoir with an astounding skill."—Maurice Samuels, Yale University
"The literary hoax named 'Émile Ajar,' successfully perpetrated by Romain Gary in the 1970s, was a scandal—less for the element of deception, perhaps, than for that extraordinary, humiliating success. In the first English translation of Ajar's most demented book, David Bellos has produced a text with all the wild, grating, fingernail against chalkboard squeal of the original. Hocus Bogus gets on your nerves, demands that you fling it against the wall in anger and contempt—and if you do it has won the match, defeated you, and will stride off the court in triumph."—Esther Allen, City University of New York
"In the era of pseudo-everything—fake memoirs, ersatz life-writing, reality TV, Internet avatars and infinite forms of plagiary—this addled 'autobiography' of an invented authorial persona is especially timely; a model of untrustworthy narration for generations to come!"—Emily Apter, author of The Translation Zone: A New Comparative Literature
"To read Hocus Bogus in Bellos's superb translation is to marvel at its dizzyingly distorted syntax ('I don't speak Danish, but not well enough'), constant wit ('reptiles are always first in the firing line when it comes to hate speech') and sheer energy."— Michael Dirda, The Washington Post
— Michael Dirda
"Hocus Bogus is a fascinating, semi-autobiographical, novel-like work . . . superbly translated by David Bellos."
--
Wall St. Journal
— Wall St. Journal
"[A] fascinating novel that is both the wild story of (and by) a mentally unhinged artist… a linguistic tour de force."—M.A. Orthofer, The Complete-Review
— M.A. Orthofer
"Hocus Bogus was written as a hoax, but it's a genuine masterpiece. Hilarious, poignant, and utterly absurd, this book is like nothing you've read before. The brilliant translation by David Bellos captures the wordplay of this madman's memoir with an astounding skill."—Maurice Samuels, Yale University
— Maurice Samuels
"The literary hoax named 'Émile Ajar,' successfully perpetrated by Romain Gary in the 1970s, was a scandal—less for the element of deception, perhaps, than for that extraordinary, humiliating success. In the first English translation of Ajar's most demented book, David Bellos has produced a text with all the wild, grating, fingernail against chalkboard squeal of the original. Hocus Bogus gets on your nerves, demands that you fling it against the wall in anger and contempt—and if you do it has won the match, defeated you, and will stride off the court in triumph."—Esther Allen, City University of New York
— Esther Allen
"In the era of pseudo-everything—fake memoirs, ersatz life-writing, reality TV, Internet avatars and infinite forms of plagiary—this addled 'autobiography' of an invented authorial persona is especially timely; a model of untrustworthy narration for generations to come!"—Emily Apter, author of The Translation Zone: A New Comparative Literature
— Emily Apter
Runner-Up for the 2011 PEN Translation Prize, as given by the PEN American Center
— PEN Translation Prize
or
Not Currently Available for Direct Purchase