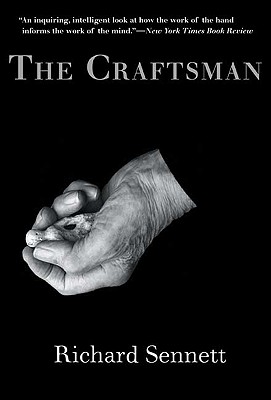 The Craftsman
Paperback

* Individual store prices may vary.
Other Editions of This Title:
Digital Audiobook (3/26/2018)
MP3 CD (3/27/2018)
Compact Disc (3/27/2018)
Description
In his most ambitious book to date, Richard Sennett offers an original perspective on craftsmanship and its close connections to work and ethical values

Craftsmanship, says Richard Sennett, names the basic human impulse to do a job well for its own sake, and good craftsmanship involves developing skills and focusing on the work rather than ourselves. The computer programmer, the doctor, the artist, and even the parent and citizen all engage in a craftsman's work. In this thought-provoking book, Sennett explores the work of craftsmen past and present, identifies deep connections between material consciousness and ethical values, and challenges received ideas about what constitutes good work in today's world. The Craftsman engages the many dimensions of skill—from the technical demands to the obsessive energy required to do good work. Craftsmanship leads Sennett across time and space, from ancient Roman brickmakers to Renaissance goldsmiths to the printing presses of Enlightenment Paris and the factories of industrial London; in the modern world he explores what experiences of good work are shared by computer programmers, nurses and doctors, musicians, glassblowers, and cooks. Unique in the scope of his thinking, Sennett expands previous notions of crafts and craftsmen and apprises us of the surprising extent to which we can learn about ourselves through the labor of making physical things. 
Praise For The Craftsman…
"In
The Craftsman
[Sennett] compellingly explores the universe of skilled work, where 'the desire to do a job well done for its own sake' still flourishes."—Brian C. Anderson,
Wall Street Journal
"An inquiring, intelligent look at how the work of the hand informs the work of the mind."—
New York Times Book Review
(Editors' Choice)
"Sennett's 'guiding intuition' in The Craftsman is that 'making is thinking.' . . . [The] book gathers case after case in which we see how the work of the hand can inform the work of the mind."—Lewis Hyde, New York Times Book Review
"A powerful meditation on the 'skill of making things well.'"—The New Yorker
"Sennett looks at the evolution of craftsmanship and the historical forces which have stultified it, how it's learned in the areas it still thrives, and issues of quality and ability. Sennett's learned but inclusive prose proves entirely readable, and the breadth of his curiosity . . . take him in a number of fascinating directions."—
Publishers Weekly
"
The Craftsman
is [an] ambitious, thought-provoking look at how we humans connect with, relate to, and understand the world around us. . . . Sennett examines the making of things through the lenses of three different focal lengths—craftsmen, craft, and craftsmanship—each of which merits its own section. Within these overlapping perspectives, the view of the landscape slides from hand to human to humankind."—Wayne Curtis,
American Scholar
"Eloquent and persuasive."—Scott Nesbit, Culture
"
The Craftsman
is [an] ambitious, thought-provoking look at how we humans connect with, relate to, and understand the world around us."—Wayne Curtis,
American Scholar
"
Craftsman
is a fairly concrete, unvarnished word that Mr. Sennett gilds and bejewels with virtue and history. For Mr. Sennett, craftsmanship 'represents the special human condition of being engaged,' and ideal marriage of 'hand to head' that crowns technical mastery with a person's sincerest efforts to make something well for its own sake. This would be dizzily heady stuff if Mr. Sennett's book weren't so prodigiously grounded in stuff itself as a means of knowledge."—Jeremy Axelrod,
New York Sun
"I am confident that as Sennett continues his quest to make sense of life and work, those of us who study the digital age will find it worthwhile to pay more attention to his body of work."—Siva Vaidhyanathan,
The Chronicle Review
"In this deeply thoughtful study, which resembles books by his teacher Hannah Arendt in combining sociological analysis and a supremely humane, ethical call to awareness, Sennett has cunningly widened to scope of what the words 'craftsman' and 'craftsmanship' traditionally denote. . . . [
The Craftsman
's] questions couldn't be more pertinent."—Eric Banks,
Barnes and Noble Review
"This book challenges our thinking and understanding concerning how we create work and workplaces, and how we make social and political choices about what we produce and consume. Sennett reaches out to the craftsman in all of us."—James H. Dulebohn,
People & Strategy
"Richard Sennett is one of the most eminent and prolific sociologists in the Western world. . . . [His readers] are led gradually and effortlessly into a special world, only to find themselves enthralled by an author who stimulates and fascinates at every turn."—Daisaburo Hashizume,
The American Interest
"A far-roving intellectual adventure."—Julian Bell,
New York Review of Books
"A far-ranging meditation on everything involved in the labor of shaping things patiently, by hand. . . . Sennett's synthesis of history, aesthetics, and psychology reminds us of the slow, deep rhythms involved in building and sustaining a culture."—Scott McLemme,
Barnes & Noble Review
"[Sennett's] range of examples is nothing short of astounding. He offers us fascinating and insightful discussions."—Nicholas Wolterstorff,
Books & Culture
"This is a discursive, intellectually stimulating and often fascinating discussion that at times seems like an engaged, elevating conversation."—William Kowinski,
NorthCoast Journal
"The good news elevating
The Craftsman
from a delightful to an encouraging read is Sennett's conviction that 'nearly anyone can become a good craftsman.'"—Patrick McCormick,
U.S. Catholic
"[Sennett] presents a wealth of material.  He discusses his topic using an elegant literary style and does not simply tick his points off like the instruction leaflet in a package of medicine. . . . Interesting and true insights captivate the reader."—Ralf Jeremias,
Working USA
"Richard Sennett's
The Craftsman
. . . [is] a work by a master writer which opens new ground and presents new possibilities in the understanding of craftsmanship, creation and work. . . . One of the more striking aspects of this book is its extremely wide breadth of references and examples. . . . The difficulty of reviewing such a book is that there are so many items on which one can dwell with fascination that one is afraid of leaving out an important nugget. . . . His analysis and insight into work, workers and craftsmanship is so evocative that it really requires a second or third reading."—Brian Dijkema,
cardus.ca
A 2008 Top Seller in Philosophy as compiled by YBP Library Services
Selected as one of the best books of 2008 by Scott McLemee of
Barnes & Noble Review
Richard Sennett is the winner of the 2010 Spinoza Prize, sponsored by the International Spinoza Award Foundation
"As Richard Sennett makes clear in this lucid and compelling book, craftsmanship once connected people to their work by conferring pride and meaning. The loss of craftsmanship—and of a society that values it—has impoverished us in ways we have long forgotten but Sennett helps us understand."—Robert B. Reich, Professor of Public Policy, University of California at Berkeley, and author of Supercapitalism: The Transformation of Business, Democracy, and Everyday Life
Yale University Press, 9780300151190, 336pp.
Publication Date: March 31, 2009
About the Author
Richard Sennett is professor of sociology at New York University and at The London School of Economics. Before becoming a sociologist, he studied music professionally. He has received many awards and honors, most recently the 2006 Hegel Prize for lifetime achievement in the humanities and social sciences.