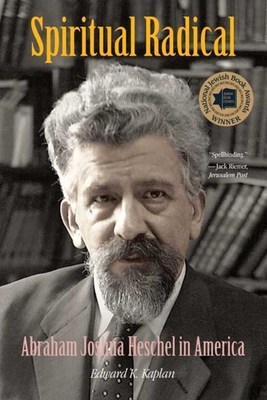 Spiritual Radical
Abraham Joshua Heschel in America, 1940-1972
Paperback

* Individual store prices may vary.
Description
The first full account of the life of one of America's greatest religious thinkers during World War II and in the decades afterward

Born in Warsaw, raised in a Hasidic community, and reaching maturity in secular Jewish Vilna and cosmopolitan Berlin, Abraham Joshua Heschel (1907-1972) escaped Nazism and immigrated to the United States in 1940. This lively and readable book tells the comprehensive story of his life and work in America, his politics and personality, and how he came to influence not only Jewish debate but also wider religious and cultural debates in the postwar decades.
A worthy sequel to his widely praised biography of Heschel's early years, Edward Kaplan's new volume draws on previously unseen archives, FBI files, interviews with people who knew Heschel, and analyses of his extensive writings. Kaplan explores Heschel's shy and private side, his spiritual radicalism, and his vehement defense of the Hebrew prophets' ideal of absolute integrity and truth in ethical and political life. Of special interest are Heschel's interfaith activities, including a secret meeting with Pope Paul VI during Vatican II, his commitment to civil rights with Martin Luther King, Jr., his views on the state of Israel, and his opposition to the Vietnam War. A tireless challenger to spiritual and religious complacency, Heschel stands as a dramatically important witness.
Yale University Press, 9780300151398, 544pp.
Publication Date: March 17, 2009
About the Author
Edward K. Kaplan is Kevy and Hortense Kaiserman Professor in the Humanities at Brandeis University where he teaches courses in French, comparative literature, and religious studies. He has been writing on Heschel for many years, and his publications include Holiness in Words: A. J. Heschel's Poetics of Piety. He lives in West Newton, MA.