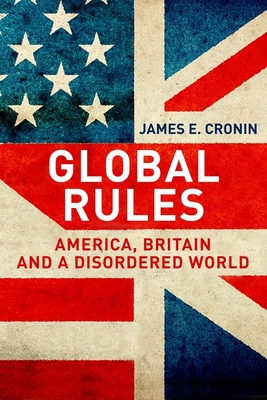 Global Rules
America, Britain and a Disordered World
Hardcover

* Individual store prices may vary.
Description
The Second World War created and the Cold War sustained a "special relationship" between America and Britain, and the terms on which that decades-long conflict ended would become the foundation of a new world order. In this penetrating analysis, a new history of recent global politics, author James Cronin explores the dramatic reconfiguring of western foreign policy that was necessitated by the interlinked crises of the 1970s and the resulting global shift toward open markets, a movement that was eagerly embraced and encouraged by the U.S./U.K. partnership.
 
Cronin's bold revisionist argument questions long-perceived views of post–World War II America and its position in the world, especially after Vietnam. The author details the challenges the economic transition of the 1970s and 1980s engendered as the United States and Great Britain together actively pursued their shared ideal of an international assemblage of market-based democratic states. Cronin also addresses the crises that would sorely test the system in subsequent decades, from human rights violations and genocide in the Balkans and Africa to 9/11 and militant Islamism in the Middle East to the "Great Recession" of 2008.
Praise For Global Rules: America, Britain and a Disordered World…
'Despite everything, the contemporary world order remains Anglo-American - and it is likely to stay that way. In this major new book James Cronin shows why this is so, combining a mastery of historical detail with an understanding of how geopolitics and political economy shape world politics. It is an absorbing read.' – Andrew Gamble, author of The Spectre at the Feast: Capitalist Crisis and the Politics of Recession
— Andrew Gamble
'A perceptive analysis and account of one of the critical relationships in international relations. Elegantly written, thoroughly researched, and persuasively argued, this is an essential read for anyone interested in the dynamics of the Anglo-American relationship and more broadly the working of the international system.' - Erik Goldstein, author of The First World War's Peace Settlements: International Relations, 1918–1925
— Erik Goldstein
"A deeply researched and lucid history of the period between the Vietnam War and the present day."?Foreign Affairs
— Foreign Affairs
"The thesis is solid, refreshing and holds water. It is an extremely competent work… While much of the material presented here is not new to specialists, it is, as far as I am aware, the first time it has been presented in as lucid and cogent manner as this."—Tore T. Petersen, American Historical Review
— Tore T. Petersen
Yale University Press, 9780300151480, 416pp.
Publication Date: October 28, 2014
About the Author
James Cronin is professor of history at Boston College and an affiliate of the Minda De Gunzburg Center for European Studies, Harvard University. He lives in Watertown and Wellfleet, MA.
or
Not Currently Available for Direct Purchase