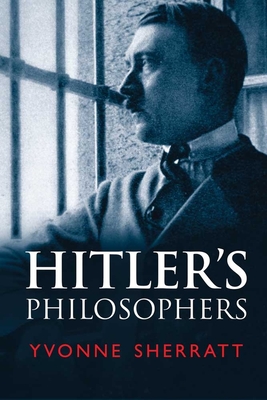 Hitler's Philosophers (Hardcover)
Yale University Press, 9780300151930, 328pp.
Publication Date: May 1, 2013
Other Editions of This Title:
Paperback (8/26/2014)
* Individual store prices may vary.
Description
Hitler had a dream to rule the world, not only with the gun but also with his mind. He saw himself as a "philosopher-leader" and astonishingly gained the support of many intellectuals of his time. In this compelling book, Yvonne Sherratt explores Hitler's relationship with philosophers and uncovers cruelty, ambition, violence, and betrayal where least expected—at the heart of Germany's ivory tower.
Sherratt investigates international archives, discovering evidence back to the 1920s of Hitler's vulgarization of noble thinkers of the past, including Kant, Nietzsche, and Darwin. She reveals how philosophers of the 1930s eagerly collaborated to lend the Nazi regime a cloak of respectability: Martin Heidegger, Carl Schmitt, and a host of others. And while these eminent men sanctioned slaughter, Semitic thinkers like Walter Benjamin and opponents like Kurt Huber were hunted down or murdered. Many others, such as Theodor Adorno and Hannah Arendt, were forced to flee as refugees. The book portrays their fates, to be dispersed across the world as the historic edifice of Jewish-German culture was destroyed by Hitler.
Sherratt not only confronts the past; she also tracks down chilling evidence of continuing Nazi sympathy in Western Universities today.
About the Author
Yvonne Sherratt is a former fellow of Corpus Christi College and most recently taught at New College, Oxford.
Praise For Hitler's Philosophers…
"A brilliantly conceived work of genuine scholarship. . . . Fascinating and important."—Publishers Weekly, starred review
— Publishers Weekly
"A powerful portrait of collaboration, and corruption." —John Cornwell, Financial Times
— John Cornwell
"Fascinating. . . . Describes the fatal intersection of politics and ideas during the Nazi era."—The Wall Street Journal
— The Wall Street Journal
"Sherratt has done a superb job in showing how significant philosophers . . . betrayed their duty to humanity, and how scores of insignificant philosophers sold their souls for professorial chairs."—Andrew Roberts, Commentary Magazine
— Andrew Roberts
"Sherratt's focus on people…is also one of the book's strengths. The stories she presents of the philosophers who fled Germany – Walter Benjamin, Theodor Adorno and Hannah Arendt – are rich and moving, sometimes amusing and at times unexpected."—John Gray, The Independent
— John Gray
"…a moving account of Kurt Huber, mentor to the White Rose resistance movement"—George Steiner, Times Literary Supplement.
— George Steiner
"Her book's strongest contribution is its overview of Hitler's self-conception as the 'philosopher-Führer'—his 'astonishing' 'identification with great German philosophers.' . . . her accounts—drive the bleak picture home."—
The Chronicle
— The Chronicle
"Cultural historians will be absorbed by this study of the easy adoption of the Nazi meme among a coterie of intellectuals who might have been expected to know better. Useful as part of philosophy or ethics curricula."—Library Journal
— Library Journal
or
Not Currently Available for Direct Purchase