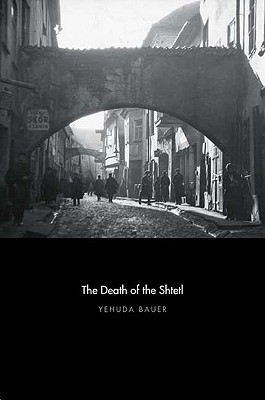 The Death of the Shtetl (Hardcover)
Yale University Press, 9780300152098, 224pp.
Publication Date: January 1, 2010
Other Editions of This Title:
Paperback (12/7/2010)
* Individual store prices may vary.
Description
In this book, Yehuda Bauer, an internationally acclaimed Holocaust historian, describes the destruction of small Jewish townships, the shtetls, in what was the eastern  part of Poland by the Nazis in 1941–1942. Bauer brings together all available documents, testimonies, and scholarship, including previously unpublished material from the Yad Vashem archives, pertaining to nine representative shtetls. In line with his belief that "history is the story of real people in real situations," Bauer tells moving stories about what happened to individual Jews and their communities.
Over a million people, approximately a quarter of all victims of the Holocaust, came from the  shtetls. Bauer writes of the relations between Jews and non-Jews (including the actions of rescuers); he also describes attempts to create underground resistance groups, efforts to escape to the forests, and Jewish participation in the Soviet partisan movement. Bauer's book is a definitive examination of the demise of the shtetls, a topic of vast importance to the history of the Holocaust.
About the Author
Yehuda Bauer is academic adviser at Yad Vashem, Jerusalem, and professor emeritus of Holocaust studies, Hebrew University. He is the author of many books, includingJews for Sale? and Rethinking the Holocaust, bothpublished by Yale University Press."
Praise For The Death of the Shtetl…
"Yehuda Bauer is one of the most prominent scholars of the Holocaust. The Death of the Shtetl is an unusual study of a central aspect of the death of a Jewish nation in Eastern Europe, early annihilated, little documented and little known. The book contains a passionate argument about the writing of history by a veteran historian. The investigation itself is a tour de force."--Benjamin Harshav, editor of The Last Days of the Jerusalem of Lithuania: Chronicles from the Vilna Ghetto and the Camps 1939-1944


-Benjamin Harshav

"Yehuda Bauer is a masterful historian who has shared with a generation of readers, scholars and non-professionals alike his insights on how to understand the Holocaust. He brings his maturity as a scholar, his clarity, and his ability to tell a story to this book. This is a most significant contribution to Holocaust scholarship."—Paula Hyman, Yale University
-Paula Hyman

"Yehuda Bauer [is] a towering and commanding figure among the historians of the Holocaust . . . What makes [The Death of the Shtetl] so important is his insistence on adhering to the highest and strictest standards of scholarship."--Jonathan Kirsch, Jewish Journal

-Jonathan Kirsch

"Short but extremely informative...filled with fascinating discussions and nuggets of information that seem to roll off the author's pen and onto the printed page."—Scott Ury, Religious Studies Review
-Scott Ury
or
Not Currently Available for Direct Purchase