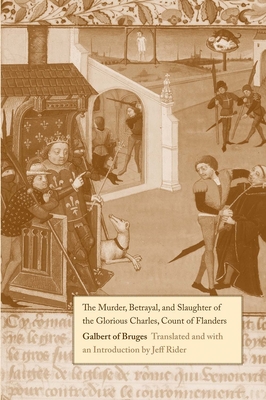 The Murder, Betrayal, and Slaughter of the Glorious Charles, Count of Flanders (Paperback)
Yale University Press, 9780300152302, 296pp.
Publication Date: November 26, 2013
* Individual store prices may vary.
Description

In 1127 Charles the Good, count of Flanders, was surrounded by assassins while at prayer and killed by a sword blow to the forehead. His murder upset the fragile balance of power between England, France, and the Holy Roman Empire, giving rise to a bloody civil war while impacting the commercial life of medieval Europe. The eyewitness account by the Flemish cleric Galbert of Bruges of the assassination and the struggle for power that ensued is the only journal to have survived from twelfth century Europe. This new translation by medieval studies expert Jeff Rider greatly improves upon all previous versions, substantially advancing scholarship on the Middle Ages while granting new life and immediacy to Galbert's well informed and courageously candid narrative.

 

 
About the Author
Jeff Rider is a professor of Romance languages and literature at Wesleyan University. He lives in Higganum, CT.
Praise For The Murder, Betrayal, and Slaughter of the Glorious Charles, Count of Flanders…
"This new translation is a serious contribution to knowledge, enhancing and advancing scholarship on the Middle Ages. Rider's introduction is learned and thoughtful, adroitly establishing the context of the De Multro. His scholarly apparatus to the translation is wonderful, always detailed and rewarding to read, never descending into numbing pedantry."— Mark Gregory Pegg, Washington University
— Mark Gregory Pegg
"This is truly a splendid work. Users of the old translation by James Bruce Ross (1959) will be delighted by Jeff Rider's text and adopt it for teaching. Rider's unique knowledge of the book's genesis and the historical figures that feature in it offers fresh insights without taking anything away from the pleasure of discovery that will await all readers."—Walter Simons, Dartmouth College
— Walter Simons
"The 1959 translation of Galbert of Bruges by James Bruce Ross set a high bar for replacement, but it was time for one and Jeff Rider is the scholar who understands this crucial 12th-century text most thoroughly and profoundly. His lucid and readable translation rests on a deep foundation of historical and literary scholarship—all of which is made available to the reader. Rider has ensured that this fascinating book will remain central to medieval scholarship and teaching."—Nancy Partner, McGill University
— Nancy Partner
"Jeff Rider's new translation remains faithful to the journalistic organization and impulses of The Murder of Charles of Flanders, which enables him to bring out previously obscured elements of the text as well as the concerns that prompted Galbert to write his important chronicle in the first place. This is an outstanding piece of scholarship that all students of the Middle Ages will appreciate."—Gabrielle M. Spiegel, Johns Hopkins University
— Gabrielle M. Spiegel
"This new English translation . . . is a triumph of scholarship . . . Essential."—Choice
— R. F. Berkhofer III
"...[T]he text is tremendously appealing for the immediacy of its voice and the clarity of its details; it demands our attention because it seems to speak in an idiom that we understand."—Scott G. Bruce, Speculum
— Scott G Bruce
or
Not Currently Available for Direct Purchase