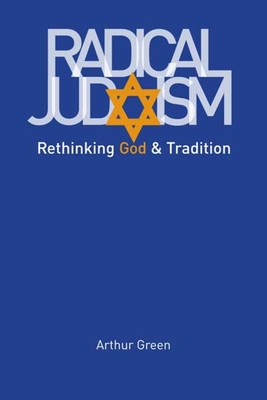 Radical Judaism
Rethinking God and Tradition (The Franz Rosenzweig Lecture Series)
Paperback

* Individual store prices may vary.
Description
As featured on the cover of Tikkun magazine

How do we articulate a religious vision that embraces evolution and human authorship of Scripture?  Drawing on the Jewish mystical traditions of Kabbalah and Hasidism, path-breaking Jewish scholar Arthur Green argues that a neomystical perspective can help us to reframe these realities, so they may yet be viewed as dwelling places of the sacred.  In doing so, he rethinks such concepts as God, the origins and meaning of existence, human nature, and revelation to construct a new Judaism for the twenty-first century.
Praise For Radical Judaism: Rethinking God and Tradition (The Franz Rosenzweig Lecture Series)…
"Filled with interesting observations . . . deliberately provocative [and] accessibly written."—Rabbi David Wolpe, Jewish Journal
"A brilliant, complex work . . . deeply satisfying . . . a welcome pushing of the boundaries by a master thinker."—Jewish Book World
"Rabbi Arthur Green . . . makes his clearest and boldest case yet . . . a valuable contribution . . . Green has now produced some of the best Jewish theology of our time."—Jay Michaelson, The Forward
"Green is steeped in the classical sources of Jewish and especially kabbalistic tradition, and his writing is informed by the insights of scientists and secular thinkers."—Daniel J. Rettberg,
AJL Newsletter
"An indispensable, reader-friendly introduction to the new immanence in contemporary theology read out of the sources of Judaism."—Zachary Braiterman,
Religious Studies Review
"[A] rich and thoughtful work . . .
Radical Judaism
ought to be read by anyone who wants to get a sense of one major position on the contemporary American Jewish theological landscape, as well as by those interested in the theoretical relationships between science and mysticism."—Samuel H. Brody,
Journal of Religion
Finalist for the
ForeWorld
Reviews 2010 Book of the Year Award in Religion
"Green emerges as a decidedly non-traditionalist theologian through this illuminating and evocative discussion about such topics as classic metaphors for God, evolutionary theory, and Kabbalistic theories of creation.
Radical Judaism
is highly accessible, and the issues addressed are very much those of our contemporaries."—Neil Gillman, The Jewish Theological Seminary of America
"A credible spirituality for our tumultuous times. Green draws richly from the Jewish mystical tradition, but also writes from the heart of his own experience. This lucidly written and wise book will reach far beyond the Jewish community."—Harvey Cox, author of The Future of Faith
Yale University Press, 9780300152326, 208pp.
Publication Date: March 23, 2010
About the Author
Rabbi Arthur Green is professor and rector of the Rabbinical School of Hebrew College in Newton, MA.