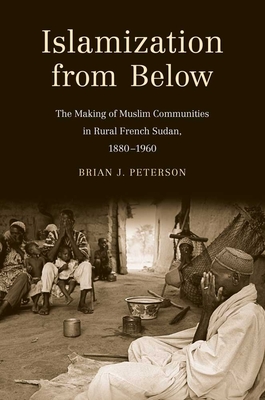 Islamization from Below
The Making of Muslim Communities in Rural French Sudan, 1880-1960
Paperback

* Individual store prices may vary.
Description
The colonial era in Africa, spanning less than a century, ushered in a more rapid expansion of Islam than at any time during the previous thousand years. In this groundbreaking historical investigation, Brian J. Peterson considers for the first time how and why rural peoples in West Africa "became Muslim" under French colonialism.
Peterson rejects conventional interpretations that emphasize the roles of states, jihads, and elites in "converting" people, arguing instead that the expansion of Islam owed its success to the mobility of thousands of rural people who gradually, and usually peacefully, adopted the new religion on their own. Based on extensive fieldwork in villages across southern Mali (formerly French Sudan) and on archival research in West Africa and France, the book draws a detailed new portrait of grassroots, multi-generational processes of Islamization in French Sudan while also deepening our understanding of the impact and unintended consequences of colonialism.
Praise For Islamization from Below: The Making of Muslim Communities in Rural French Sudan, 1880-1960…
"A well researched and written narrative and analysis, Islamization from Below lives up to its promise of bringing new insight to the process by which Islam has become the majority religious practice of significant areas of West Africa. I do not know of any comparable works. His work should interest students and scholars of African and West African history, Islam and religious studies."—David Robinson, Michigan State University

— David Robinson
"Peterson has produced an excellent study based on his probing of colonial documents and extensive use of oral testimony about the past. He underscores the sociological aspects of Islam's allure and the role of former slaves, retired soldiers, and labor migrants in the integration of Islam into the local religious heritage. The comprehensiveness of the analysis means that this work is a very significant contribution to the literature on colonial rule, with fine reconstructions of economic and administrative transformations."—John H. Hanson, Indiana University
— John Hanson
"One of the most important and inspired works on Islam in Africa."—American Historical Review 
— American Historical Review
Yale University Press, 9780300152708, 336pp.
Publication Date: April 26, 2011
About the Author
Brian J. Peterson is assistant professor of history, Union College. He lives in New York City.