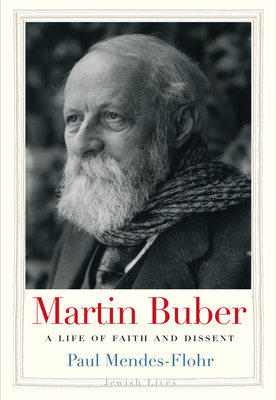 Martin Buber
A Life of Faith and Dissent (Jewish Lives)
Hardcover

* Individual store prices may vary.
Other Editions of This Title:
Paperback (6/1/2002)
Description
From the prizewinning Jewish Lives series, the first major biography in English in over thirty years of the seminal modern Jewish thinker Martin Buber

"A scrupulously researched, perceptive biography."—Robert Alter, New York Times Book Review

An authority on the twentieth‑century philosopher Martin Buber (1878–1965), Paul Mendes-Flohr offers the first major biography in English in thirty years of this seminal modern Jewish thinker. The book is organized around several key moments, such as his sudden abandonment by his mother when he was a child of three, a foundational trauma that, Mendes-Flohr shows, left an enduring mark on Buber's inner life, attuning him to the fragility of human relations and the need to nurture them with what he would call a "dialogical attentiveness."
Buber's philosophical and theological writings, most famously I and Thou, made significant contributions to religious and Jewish thought, philosophical anthropology, biblical studies, political theory, and Zionism. In this accessible new biography, Mendes-Flohr situates Buber's life and legacy in the intellectual and cultural life of German Jewry as well as in the broader European intellectual life of the first half of the twentieth century.

About Jewish Lives: 

Jewish Lives is a prizewinning series of interpretative biography designed to explore the many facets of Jewish identity. Individual volumes illuminate the imprint of Jewish figures upon literature, religion, philosophy, politics, cultural and economic life, and the arts and sciences. Subjects are paired with authors to elicit lively, deeply informed books that explore the range and depth of the Jewish experience from antiquity to the present.

In 2014, the Jewish Book Council named Jewish Lives the winner of its Jewish Book of the Year Award, the first series ever to receive this award.

More praise for Jewish Lives:

"Excellent." –New York Times

"Exemplary." –Wall Street Journal

"Distinguished." –New Yorker

"Superb." –The Guardian
Praise For Martin Buber: A Life of Faith and Dissent (Jewish Lives)…
"Mendes-Flohr. . . . traces the historical path that led Buber from Europe to Israel, and, throughout his engrossing narrative, tracks Buber's intellectual journey, one that made him both a revered figure and a controversial one."—Benjamin Balint, Wall Street Journal

"A scrupulously researched, perceptive biography of Buber that evinces an authoritative command of all the contexts through which Buber moved."—Robert Alter, New York Times Book Review

"Definitive."—Publishers Weekly

"Mendes-Flohr's magisterially researched and engagingly written biography brings Buber to life, makes his thought urgent and present, and shows again and again how Buber the person but also the thinker remains very much our contemporary."—Robert Erlewine, H-Net Reviews

"This is now the authoritative work on Buber and the place that all students of Buber should begin."—S. T. Katz, Choice

"Highly readable and concise. . . . Thanks to Mendes-Flohr's excellent biography of Buber, we need no translator to fully appreciate the monumental teachings of this seminal modern Jewish thinker."—Rabbi A. James Rudin, Reform Judaism 

"Paul Mendes-Flohr's excellent recent biography, Martin Buber: A Life of Faith and Dissent, brings coherence to the tangles of Buber's life and thought, while never smoothing out the tensions that defined them."—Sam Gee, Los Angeles Review of Books

"An excellent general introduction to the life and thought of one of the 20th century's most important thinkers."—Yoav Schaefer, Jewish Review of Books 

"Splendid."—Michael Berkowitz, Tel Aviv Review of Books


"Martin Buber was a great and hugely complicated man: philosopher, activist, he engaged throughout his career in a committed search for a modern Judaism that would remain in touch with the beauty, complexity, and tragedy of everyday life. Paul Mendes-Flohr's superb biography captures the depth and many-sidedness of Buber's life and work. It is a great gift for all who already care about Buber, and for many who have yet to make his acquaintance."—Martha C. Nussbaum, The University of Chicago

"This exquisite biography presents the best account to date of the life and work of one of the most distinguished modern Jewish thinkers and provides a panoramic view of the rich intellectual and cultural life of German Jewry."—Amir Eshel, Stanford University

"In Martin Buber, Paul Mendes-Flohr brilliantly combines impeccable scholarship with the ability to allow the real living person to come through on the page."—Arthur Green, author of Radical Judaism


Yale University Press, 9780300153040, 440pp.
Publication Date: March 26, 2019
About the Author
Paul Mendes-Flohr is editor-in-chief of the twenty-two-volume German critical edition of the collected works of Martin Buber and the author of German Jews: A Dual Identity. He is professor emeritus of the Divinity School, University of Chicago, and the Hebrew University of Jerusalem.