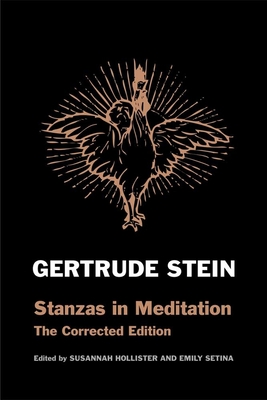 Stanzas in Meditation
The Corrected Edition
Paperback

* Individual store prices may vary.
Description
In the 1950s, Yale University Press published a number of Gertrude Stein's posthumous works, among them her incomparable Stanzas in Meditation. Since that time, scholars have discovered that Stein's poem exists in several versions: a manuscript that Stein wrote and two typescripts that her partner Alice B. Toklas prepared. Toklas's work on the second typescript changed the poem when, enraged upon detecting in it references to a former lover, she not only adjusted the typescript but insisted that Stein make revisions in the original manuscript.
This edition of Stanzas in Meditation is the first to confront the complicated story of its composition and revision. Through meticulous archival work, the editors present a reliable reading text of Stein's original manuscript, as well as an appendix with the textual variants among the poem's several versions. This record of Stein's multi-layered revisions enables readers to engage more fully with the author's radically experimental poem and also to detect the literary impact of Stein's relationship with Toklas. The editors' preface and poet Joan Retallack's introduction offer insight into the complexities of reading Stein's poetry and the innovative modes of reading that her works require and generate. Students and admirers of Stein will welcome this illuminating new contribution to Stein's oeuvre.
Praise For Stanzas in Meditation: The Corrected Edition…
"Emily Setina and Susannah Hollister have undertaken the demanding, detailed task of preparing a reliable reading text of a grand, difficult text by one of our most important modernist writers. This critical edition will be the canonical version of Stanzas in Meditation."—Catharine R. Stimpson, New York University
— Catharine R. Stimpson


"Thanks to Joan Retallack's compelling introduction and the cogent editing of Susannah Hollister and Emily Setina, Stein's late masterpiece at last exists in its proper luminous clarity. It is wonderful that Stein's celebration of "the commonplace," that most mysterious and opaque though omnipresent realm, is now available in this elegant and useful edition."—Lyn Hejinian, author of The Language of Inquiry
— Lyn Hejinian


"Meticulously edited and lucidly presented by Susannah Hollister and Emily Setina, this edition of Stanzas in Meditation makes available a central work of literary modernism and sets a standard for future Stein editors."—Edward Burns, editor of Textual Cultures
— Edward Burns
Yale University Press, 9780300153095, 400pp.
Publication Date: January 17, 2012
About the Author
Susannah Hollister is ACLS New Faculty Fellow, University of Texas at Austin. She lives in Austin, TX. Emily Setina is an assistant professor of English at Baylor University. She lives in Waco, TX.
or
Not Currently Available for Direct Purchase