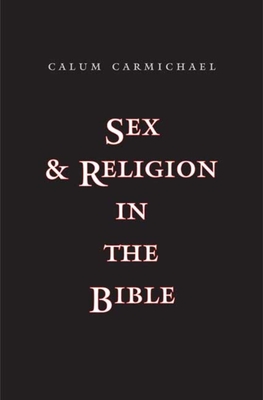 Sex and Religion in the Bible (Hardcover)
Yale University Press, 9780300153774, 224pp.
Publication Date: February 23, 2010
* Individual store prices may vary.
Description
If we look to the Bible for historical accounts of ancient life, we make a profound error. So contends Calum Carmichael in this original and incisive reading of some of the Hebrew Bible and New Testament's most famous narratives. Sifting through the imaginative layers of these texts with an uncanny sensitivity and a panoptic critical eye, he unearths patterns connecting disparate passages, providing fascinating insights into how ideas were expressed, received, and transformed in the ancient Near East. Ranging from Jacob's encounter with Leah to the marriage at Cana to Jesus' encounter with the woman at the well, these readings demonstrate the remarkable subtlety and sophistication of the biblical views on marriage, sexuality, fertility, impurity, creation, and love.
About the Author
Calum Carmichael is a professor of comparative literature and adjunct professor of law at Cornell University.
Praise For Sex and Religion in the Bible…
"Calum Carmichael is one of the most original voices in Biblical scholarship today. This newest book on sex and religion in the Bible continues Carmichael's stellar record of bringing the most traditional of philological methods to bear on matters of contemporary ethical, literary, cultural, and religious interest. A masterpiece of close readings that pull out nuances of theology, lived experience, and literary significance from a series of carefully chosen scenes from the Old and New Testaments."— Julia Reinhard Lupton, University of California, Irvine
— Julia Reinhard Lupton
"Tracing the links between law codes and stories, Calum Carmichael's fascinating study offers a key to the Bible's treatment of human sexual life. From the Book of Genesis to the Gospel of John, Carmichael uncovers the patterns of thought that express the biblical authors' understanding of this central sphere of human existence."—Ronna Burger, Tulane University
— Ronna Burger
"Combining an intensive reading of the text with insightful connections between narrative and law, Carmichael offers original and convincing interpretations of how people in biblical times thought about issues such as sexuality, marriage, fertility, and love. Highly recommended for anyone interested in new ways of understanding the Bible in its historical and literary context."—Geoffrey Miller, New York University Law School
— Geoffrey Miller
or
Not Currently Available for Direct Purchase