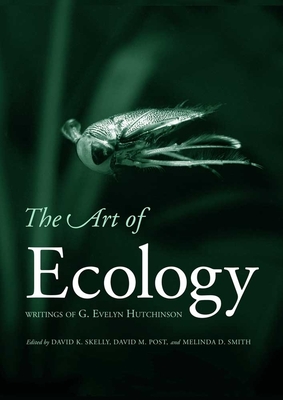 The Art of Ecology
Writings of G. Evelyn Hutchinson
Paperback

* Individual store prices may vary.
Description
During the twentieth century, ecology evolved from a collection of natural history facts to a rigorous, analytical discipline with a rich body of theory.  No single person is more responsible for this change than G. Evelyn Hutchinson.  This collection of selected writings showcases Hutchinson's dynamic and wide-ranging mind as well as his keen wit. Original essays by scientists and historians underscore the continuing relevance of Hutchinson's ideas.
Praise For The Art of Ecology: Writings of G. Evelyn Hutchinson…
 "…A valuable overview of the writings and history of one of the 20th century's finest minds." –Val Smith, University of Kansas
— Val Smith

"…An inspiration to all of us. …having these pieces by Hutchinson put together in one place will be a valued tool for nurturing a sense of history in the discipline of ecology."—Robert D. Holt, University of Florida
— Robert D. Holt

"This volume is a treasure, a beautifully integrated collection of writings by Hutchinson and about him, a loving tribute to one of the most important scientists of our time."—Simon Levin, author of Fragile Dominion
— Simon Levin

"These essays are a tribute both to his research and to the man who nurtured so many students and great academics. Perhaps not the father of ecology but, as he liked to recall, the intellectual father of a great number of ecologists."—The Global Journal
— The Global Journal

"This anthology provides a valuable introduction to [Hutchinson's] thoughts and achievements. . . . Yale University Press has produced a handsome book at a handsome price to commemorate a famous Yale professor."—F. N. Egerton, CHOICE
— F. N. Egerton

"The Art of Ecology is an eclectic collection of essays, book excerpts, and primary scientific literature by Hutchinson, complete with the original font, figures, and graphs from each excerpt. The selections, which are introduced by historians and scientists, reveal an intellectual breadth unusual in our era of specialization. I came to this book as experimental biologist knowing little of limnology or theoretical ecology, but I was fascinated and inspired by this peek into Hutchinson's world."—Callen Hyland, Yale Journal of Biology and Medicine
— Callen Hyland

"The Art of Ecology ultimately feels like the kind of museum collection Hutchinson admired — it is scientifically informative and beautiful in its diversity. The multiple facets of Hutchinson's life and ideas exemplify what many know but are hesitant to admit: Science is justified. Not by the accumulation or application of knowledge, but rather by the joy derived from understanding aspects of an intriguing universe."—Callen Hyland, Yale Journal of Biology and Medicine
— Callen Hyland

"…a harmonious and coherent picture of Hutchinson's intellectual evolution." —Aaron M. Ellison, Ecology
— Aaron M. Ellison

 "It was fascinating overall to learn more about G. Evelyn Hutchinson in this book. The Art of Ecology is a great collection of his most important achievements." —Jonathan M. Jeschke
— Jonathan M. Jeschke
Yale University Press, 9780300154498, 368pp.
Publication Date: January 11, 2011
About the Author
David K. Skelly, David M. Post, and Melinda D. Smith are ecologists on the faculty of Yale University.
or
Not Currently Available for Direct Purchase