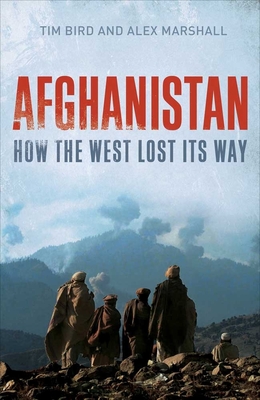 Afghanistan
How the West Lost Its Way
Hardcover

* Individual store prices may vary.
Description
On the eve of the tenth anniversary of the intervention in Afghanistan, a major assessment of strategy in this most unstable of nations

In October 2001, NATO forces invaded Afghanistan. Their initial aim, to topple the Taliban regime and replace it with a more democratic government aligned to Western interests, was swiftly achieved. However, stabilizing the country in the ensuing years has proven much more difficult. Despite billions of dollars in aid and military expenditure, Afghanistan remains a nation riddled with warlords, the world's major heroin producer, and the site of a seemingly endless conflict between Islamist militants and NATO forces.
In this timely and important book, Tim Bird and Alex Marshall offer a panoramic view of international involvement in Afghanistan from 2001 to 2011. Tackling the subject matter as a whole, Bird and Marshall weave together analysis of military strategy, regional context, aid policy, the Afghan government, and the many disagreements between and within the Western powers involved in the intervention. Given the complicating factors of the heroin trade, unwelcoming terrain, and precarious relations with Pakistan, the authors acknowledge the ways in which Afghanistan has presented unique challenges for its foreign invaders. Ultimately, however, they argue that the international community has failed in its self-imposed effort to solve Afghanistan's problems and that there are broader lessons to be learned from their struggle, particularly in terms of counterinsurgency and the ever-complicated work of "nation-building." The overarching feature of the intervention, they argue, has been an absence of strategic clarity and coherence.
Praise For Afghanistan: How the West Lost Its Way…
"Tim Bird and Alex Marshall's brisk, broad survey of the war is drily un- impressed by American strategy. It is sub- titled 'How the West Lost its Way', and its authors, who are academics — King's College, London and Glasgow University respectively — imply that western policy has been based on a Micawberish view that, with sufficient persistence and perspiration, something will eventually turn up to solve, or at least pacify, the Afghan Question. It hasn't."—Alan Massie, The Spectator
— Alan Massie

"The authors present a lucid, devastating critique of the road taken."—Publishers Weekly
— Publishers Weekly

"This lucid account from two British military historians will keep readers gnashing their teeth throughout. . . . A gloomily convincing portrait of American misadventures in Afghanistan."—Kirkus Reviews
— Kirkus Reviews

"Bird and Marshall provide a valuable historical overview of the war in Afghanistan from the overthrow of the Taliban in 2001 to the recent Obama troop surge."—Jeremy Kuzmanov, History News Network
— Jeremy Kuzmanov
Yale University Press, 9780300154573, 303pp.
Publication Date: June 28, 2011
About the Author
Tim Bird is a lecturer at the Joint Services Command and Staff College and the Defence Studies Department, King's College, London. He lives in southern England. Alex Marshall is Lecturer in History in the War Studies Department of the University of Glasgow. He lives in Glasgow.
or
Not Currently Available for Direct Purchase