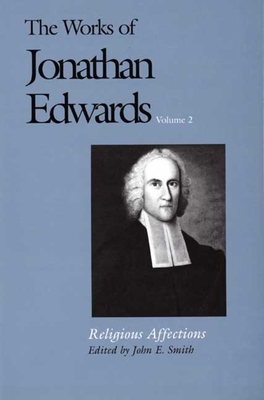 The Works of Jonathan Edwards, Vol. 2 (Paperback)
Volume 2: Religious Affections (The Works of Jonathan Edwards Series)
Yale University Press, 9780300158410, 536pp.
Publication Date: August 25, 2009
Other Editions of This Title:
Hardcover (10/13/1993)
Hardcover (6/22/1994)
Hardcover (12/28/1994)
Hardcover (9/10/1980)
Hardcover (7/11/2000)
Hardcover (4/10/2003)
Hardcover (2/17/1998)
Hardcover (9/10/1977)
Hardcover (10/2/2006)
Hardcover (10/2/2006)
Hardcover (9/10/1989)
Hardcover (12/11/2002)
Hardcover (7/11/2001)
Hardcover (12/23/1992)
Hardcover (4/20/1998)
Hardcover (9/10/1972)
Hardcover (7/11/2002)
Hardcover (9/10/1970)
Hardcover (9/10/1959)
* Individual store prices may vary.
Description
This volume contains Edwards' most mature and persistent attempt to judge the validity of the religious development in eighteenth-century America known as the Great Awakening. In developing criteria for such judgment he attacked at the same time one of the fundamental questions facing all religion: how to distinguish genuine from spurious piety? The Awakening created much bitter controversy; on the one side stood the emotionalists and enthusiasts, and on the other the rationalists, for whom religion was essentially a matter of morality or good conduct and the acceptance of properly formulated doctrine. Edwards, with great analytical skill and enormous biblical learning, showed that both sides were in the wrong. He attacked both a "lifeless morality" as too pale as to be the essence of religion, and he rejected the excesses of a purely emotional religion more concerned for sensational effects than for the inner transformation of the self, which was, for him, the center of genuine Christianity.
Praise For The Works of Jonathan Edwards, Vol. 2: Volume 2: Religious Affections (The Works of Jonathan Edwards Series)…
"Any modern empirical philosopher should welcome this sane, balanced, and acute study of the signs of a truly converted life. It is valuable to be reminded that not all the varieties of religious experience are experiences of true religion."—Journal of Theological Studies
"This volume, like its predecessor, is magnificently produced and carefully edited. The editor . . . provides over eighty pages of an Introduction which shows a profound and erudite analysis of Edwards's treatment of the question, How shall the presence of the divine Spirit be discerned against the background of the Great Awakening in New England?, and contrives to give it a contemporary relevance."—Theology
"A splendid piece of interpretation, exegetical and contemporary."—Church History
"Mr. Smith's Introduction is an enlightening volume in itself and excellently shaped toward the understanding of the Treatise it introduces. It may well stimulate inquiry as to the continuing relevance of Edwards's thought to the religious dilemma of modern times."—American Literature