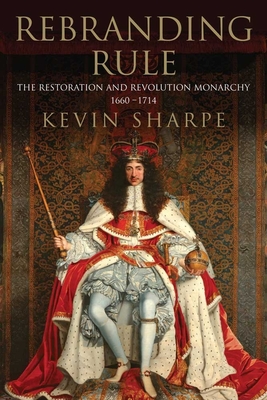 Rebranding Rule (Hardcover)
The Restoration and Revolution Monarchy, 1660-1714
Yale University Press, 9780300162011, 872pp.
Publication Date: July 23, 2013
* Individual store prices may vary.
Description
In the climactic part of his three-book series exploring the importance of public image in the Tudor and Stuart monarchies, Kevin Sharpe employs a remarkable interdisciplinary approach that draws on literary studies and art history as well as political, cultural, and social history to show how this preoccupation with public representation met the challenge of dealing with the aftermath of Cromwell's interregnum and Charles II's restoration, and how the irrevocably changed cultural landscape was navigated by the sometimes astute yet equally fallible Stuart monarchs and their successors.
About the Author
The late Kevin Sharpe was Leverhulme Research Professor of Renaissance Studies at Queen Mary College, University of London. He was the author of The Personal Rule of Charles 1, Reading Revolutions, Selling the Tudor Monarchy, and Image Wars.
Praise For Rebranding Rule: The Restoration and Revolution Monarchy, 1660-1714…
"Like many works not yet in the publication pipeline at the time of the author's death, it could easily have been lost to us if Sharpe's friend and colleague Mark Knights had not seen it through its final stages. We all owe Knights a debt of gratitude, both because of the book's quality and the fact that it is a fitting monument to one of the foremost historians of the early modern world."
"Sharpe writes beautifully and the book is a long, lush walk through the public rituals of monarchy, the depiction of monarchs by artists and hack engravers, wordsmiths and preachers. Sharpe clearly enjoyed exploring the nuances of this world of physical and allegorical spectacle and offers a wealth of examples to illustrate his argument. And it is a convincing one."
"This reviewer . . . was left dazzled and admiring of the wonderful scholarship that [Sharpe] displays and the insights that he offers [and] . . . is to be recommended to any student of the period. It will be the starting point for any consideration of the cultural presentation of the early modern English monarchy for the foreseeable future."—Daniel Szechi, BBC History Magazine
— Daniel Szechi
"Few scholars, if any, can match Sharpe's knowledge of such a broad range of materials across the early modern period, or can boast of having written so authoritatively about both the Tudor and Stuart centuries and about both the pre- and post- Civil War eras."—Tim Harris, Literary Review
— Tim Harris
'The strengths of Sharpe's earlier work are still in evidence: wide-reading, detailed and subtle exposition of written and visual texts.'—Jean Wilson, TLS
— Jean Wilson
or
Not Currently Available for Direct Purchase