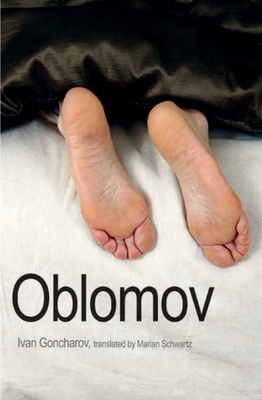 Oblomov (Paperback)
Yale University Press, 9780300162288, 576pp.
Publication Date: March 2, 2010
Other Editions of This Title:
Paperback, Russian (10/14/2018)
Paperback (1/2/2020)
Paperback, Russian (4/12/2018)
Paperback, Russian (6/30/2019)
Paperback (2/20/2020)
Paperback (9/14/2017)
Paperback (11/24/2018)
Paperback (9/20/2017)
Paperback (6/16/2020)
Paperback, Russian (9/3/2018)
Paperback (12/30/2016)
Paperback, Russian (2/13/2019)
Paperback (4/4/2017)
Paperback (6/16/2020)
Paperback (6/10/2019)
Paperback (2/20/2020)
* Individual store prices may vary.
Description
Set at the beginning of the nineteenth century, when idleness was still looked upon by Russia's serf-owning rural gentry as a plausible and worthy goal, Ivan Goncharov's Oblomov follows the travails of an unlikely hero, a young aristocrat incapable of making a decision. Indolent, inattentive, incurious, given to daydreaming and procrastination, Oblomov clearly predates the ideal of the industrious modern man, yet he is impossible not to admire through Goncharov's masterful prose. Translator Marian Schwartz breathes new life into this Russian masterpiece in this, the first translation from the generally recognized definitive edition of the original, as well the first to attempt to replicate in English Goncharov's wry humor and all-embracing humanity. Replete with ingenious social satire and cutting criticism of nineteenth-century Russian society, this edition of Oblomov will introduce new readers to the novel that Leo Tolstoy praised as "a truly great work, the likes of which one has not seen for a long, long time."
About the Author
Ivan Goncharov (1812–1891) was born in Simbirsk, Russia, and is the author of three novels. Goncharov's short stories, essays, and memoirs were published posthumously in 1919. Marian Schwartz is a prize-winning translator of Russian fiction, history, biography, criticism, and fine art. She is the principal English translator of the works of Nina Berberova and translated the New York Times bestseller The Last Tsar, by Edvard Radzinsky. She lives in Austin, TX.
Praise For Oblomov…
"[Goncharov is] ten heads above me in talent."—Anton Chekhov
— Anton Chekhov
"Oblomov is a truly great work, the likes of which one has not seen for a long, long time. I am in rapture over Oblomov and keep rereading it."—Leo Tolstoy
— Leo Tolstoy
"Offers a fine example of sly and compassionate satire, a very rare genre indeed"—Michael Wood, London Review of Books
— London Review of Books
"You can't help but be captivated by the 'rapture' that Tolstoy spoke of when reading and rereading it."—Ron Rosenblum, Slate, A Slate Best Book of 2008
— Slate
"The combination of Goncharov's edits and Schwartz's translation left me thumbing back to the copyright page to confirm 1862, not 1962, as this translation sparkles with contemporary lyricism and humor."—Karen Vanuska, Quarterly Conversation
— Quarterly Conversation
"Long before Jerry Seinfeld and Samuel Beckett, there was Ivan Goncharov, a minor government official in czarist Russia, and his classic novel about an ordinary Russian aristocrat mired in his own extraordinary inertia."—Chris Lehman, Bookforum
— Bookforum
or
Not Currently Available for Direct Purchase