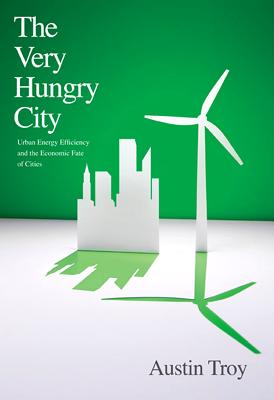 The Very Hungry City
Urban Energy Efficiency and the Economic Fate of Cities
Hardcover

* Individual store prices may vary.
Other Editions of This Title:
Paperback (1/28/2014)
Description
As global demand for energy grows and prices rise, a city's energy consumption becomes increasingly tied to its economic viability, warns the author of The Very Hungry City. Austin Troy, a seasoned expert in urban environmental management, explains for general readers how a city with a high "urban energy metabolism"--that is, a city that needs large amounts of energy in order to function--will be at a competitive disadvantage in the future. He explores why cities have different energy metabolisms and discusses an array of innovative approaches to the problems of expensive energy consumption.
Troy looks at dozens of cities and suburbs in Europe and the United States--from Los Angeles to Copenhagen, Denver to the Swedish urban redevelopment project Hammarby Sjostad--to understand the diverse factors that affect their energy use: behavior, climate, water supply, building quality, transportation, and others. He then assesses some of the most imaginative solutions that cities have proposed, among them green building, energy-efficient neighborhoods, symbiotic infrastructure, congestion pricing, transit-oriented development, and water conservation. To conclude, the author addresses planning and policy approaches that can bring about change and transform the best ideas into real solutions.
Praise For The Very Hungry City: Urban Energy Efficiency and the Economic Fate of Cities…
"Austin Troy delivers a fascinating—and chilling—look at our cities'' dangerous dependence on an unpredictable world energy market. He shows why we need to break our addiction to cheap energy, and offers practical solutions on how to do it."—Arianna Huffington, co-founder and Editor-in-Chief of The Huffington Post
-Arianna Huffington



"Engagingly written and meticulously researched, The Very Hungry City is a must-read for those who are interested in how energy is currently used in our communities and how those communities can use less while actually improving the quality of life."—Peter Shumlin, Governor of Vermont


-Peter Shumlin

"I felt I had learned a lot about the reasons that energy utilization patterns in urban America are as wasteful and intense as they are.  I''ve not seen another book like this."—Lawrence E. Susskind, Ford Professor of Urban and Environmental Planning, Massachusetts Institute of Technology
-Lawrence E. Susskind

"The Very Hungry City is a readable analysis about why it makes sense to plan for our future now and that ''Smart Growth'' does not mean ''no growth''.  At a time when energy and environmental issues are being hotly debated in Congress, the author uses economics to make the case for sustainable development and, hopefully, will inform policymakers now, when it counts."—Christine Todd Whitman, former Governor of New Jersey and Administrator of the EPA
-Christine Todd Whitman

"How we build our cities and how we live in them is the key to addressing the central environmental challenges of our time.  With compelling examples drawn from around the globe, Austin Troy's Very Hungry City shows by doing urban places right, we can not only curb our prodigious appetites—but at the same time enjoy a better quality of life."—Joseph Cortright, author of City Vitals
-Joseph Cortright
Yale University Press, 9780300162318, 384pp.
Publication Date: January 10, 2012
About the Author
Austin Troy is associate professor in the Rubenstein School of Environment and Natural Resources at the University of Vermont, and principal and cofounder of Spatial Informatics Group, LLC. He lives in Shelburne, VT.
or
Not Currently Available for Direct Purchase