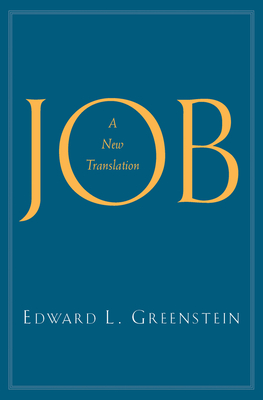 Job
A New Translation
Hardcover

* Individual store prices may vary.
Other Editions of This Title:
Paperback (8/4/2020)
Description
This "bold new English translation" (Adam Kirsch, Wall Street Journal) of Job by one of the world's leading biblical scholars will reshape the way we read this canonical text

"A work of erudition with . . . a revolutionary twist."—James Parker, Atlantic 

The book of Job has often been called the greatest poem ever written. The book, in Edward Greenstein's characterization, is "a Wunderkind, a genius emerging out of the confluence of two literary streams" which "dazzles like Shakespeare with unrivaled vocabulary and a penchant for linguistic innovation." Despite the text's literary prestige and cultural prominence, no English translation has come close to conveying the proper sense of the original. The book has consequently been misunderstood in innumerable details and in its main themes.
 
Edward Greenstein's new translation of Job is the culmination of decades of intensive research and painstaking philological and literary analysis, offering a major reinterpretation of this canonical text. Through his beautifully rendered translation and insightful introduction and commentary, Greenstein presents a new perspective: Job, he shows, was defiant of God until the end. The book is more about speaking truth to power than the problem of unjust suffering.
Praise For Job: A New Translation…
"A bold new English translation"—Adam Kirsch, Wall Street Journal

"Provocative . . . intriguing . . . Taken as a work of literature in its own right, Greenstein's translation is engaging and unusual, at times even strangely sublime."—Nathan Goldman, Bookforum 

"[An] excellent, accessible translation . . . For both scholars and general readers of the Bible, Greenstein's novel interpretation of Job's significance and keen analysis of the Bible's own discussion of theodicy will be eye-opening."—Publishers Weekly (starred review)

"Edward L. Greenstein's new translation of the Book of Job is a work of erudition with . . . a revolutionary twist."—James Parker, Atlantic 

"Careful readers who want to explore the mined depths of this Hebrew work will have to make choices. Greenstein's version should be among those considered for many reasons . . . As for me, I find Greenstein's Job more appealing than the traditional Job."—Bill Tammeus, Faith Matters blog

"[A] diligent and elegant translation"—C. Christopher Smith, Englewood Review of Books

"A major reinterpretation of one of the greatest, most challenging poems ever written . . . A beautifully rendered translation."—John R. Barker, The Bible Today 

"Masterful"—Ed Simon, The Millions

"Greenstein provides a distilled magnum opus that should serve as an exemplar of a neglected school of thought in biblical interpretation."—Library Journal

"Reading Greenstein's rendering of Job is like encountering a powerful text for the first time all over again, at once familiar and fresh. . . . An invaluable resource for the study and enjoyment of the Book of Job."—Bradley C. Gregory, Catholic Biblical Quarterly

''Greenstein gives us an original rendering of the book with many unusual turns. . . . In conclusion, Greenstein, through his prodigious knowledge of Job, of the Hebrew language, and of cognate languages and cultures, has challenged many previous notions about the meaning of the book."—David Penchansky, Review of Biblical Literature

"A vibrant and flowing translation . . . a pleasure to read."—David M. Stec, Journal for the Study of the Old Testament

Finalist for the Jordan Schnitzer Book Award, Bible and Rabbinics category, sponsored by The Association for Jewish Studies

Winner of the 2020 EMET Prize in the Humanities, in the area of Biblical research, sponsored by the A.M.N. Foundation for the Advancement of Science, Art, and Culture in Israel
 

"Greenstein's Job offers the rarest combination of talents: a philologist's determination to hunt down the meaning of every word and a poetic delight in language and making the text sing."—James Kugel

"A masterful translation, new, bold, and often startling, by one of the great masters of this masterpiece of world literature. Greenstein's Job offers authoritative guidance to a book whose profundities and conundrums continue to challenge."—Peter Machinist, Harvard University

"Grounded in deep literary sensitivity and decades of meticulous philological scholarship, Greenstein's translation of Job brings us closer to the sublime text and uncompromising spirit of this great and challenging biblical book than anyone has previously done."—Everett Fox, Clark University

"A singular achievement by one of the foremost Biblical linguists, who deftly renders the rhetorical and verbal genius of 'Job'. The translation speaks to the contemporary ear while retaining the original's sinewy structure."—Michael Fishbane, University of Chicago

"An immense pleasure for the reader, this novel translation recreates the flavor of the ancient Hebrew poetical text in its original setting. It is perhaps the first Job translation to free itself from traditional interpretations and it reflects the author's decades of thorough research."—Emanuel Tov, The Hebrew University of Jerusalem


Yale University Press, 9780300162349, 248pp.
Publication Date: August 20, 2019
About the Author
Edward L. Greenstein is professor emeritus of Bible at Bar-Ilan University and a prolific, world-renowned scholar in many areas of biblical and ancient Near Eastern studies.