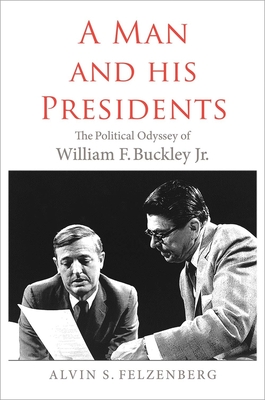 A Man and His Presidents (Hardcover)
The Political Odyssey of William F. Buckley Jr.
Yale University Press, 9780300163841, 448pp.
Publication Date: May 2, 2017
Other Editions of This Title:
Paperback (2/27/2018)
Compact Disc (5/2/2017)
Compact Disc (5/2/2017)
MP3 CD (5/2/2017)
Pre-Recorded Audio Player (5/2/2017)
* Individual store prices may vary.
Description
A new understanding of the man who changed the face of American politics

William F. Buckley Jr. is widely regarded as the most influential American conservative writer, activist, and organizer in the postwar era. In this nuanced biography, Alvin Felzenberg sheds light on little-known aspects of Buckley's career, including his role as back-channel adviser to policy makers, his intimate friendship with both Ronald and Nancy Reagan, his changing views on civil rights, and his break with George W. Bush over the Iraq War.
 
Felzenberg demonstrates how Buckley conveyed his message across multiple platforms and drew upon his vast network of contacts, his personal charm, his extraordinary wit, and his celebrity status to move the center of political gravity in the United States closer to his point of view. Including many rarely seen photographs, this account of one of the most compelling personalities of American politics will appeal to conservatives, liberals, and even the apolitical.
About the Author
Alvin S. Felzenberg served in two presidential administrations and was principal spokesman for the 9/11 Commission. He teaches at the University of Pennsylvania's Annenberg School for Communication and is the author of The Leaders We Deserved (and a Few We Didn't). He lives in Washington, DC.
Praise For A Man and His Presidents: The Political Odyssey of William F. Buckley Jr.…
"Deeply researched and smoothly written. . . . A superb political biography."—Lee Edwards, Wall Street Journal
"A gracefully written and richly informative book."—Damon Linker, New York Times
"Insightful. . . . this well-researched work will appeal to both conservatives and liberals seeking to understand 'democratic politics' and Buckley's accomplishments as an author, commentator, and leader."—William D. Pederson, Library Journal (starred review)
"Al Felzenberg shows in this fine political biography . . . that Buckley was ahead of his time when it came to promoting his views: cross-pollinating every form of media, leveraging relationships behind the scenes, and blending all this with the allure of lifestyle (his own) and entertainment (that celebrated wit)."—Cullen Murphy, Vanity Fair
"A well-delineated portrait of an impassioned conservative."—Kirkus Reviews
"Felzenberg writes with grace and good humor."—John R. Coyne, The American Spectator
"A magisterial biography. . . . Felzenberg captures the toute ensemble, telling the story of modern America's most vital conservative force in prose that is as enlivening as it is illuminating. No one with an interest in the past six decades of American history will want to miss this wonderful and irreplaceable book."—New Criterion
"Describes Buckley's various crusades with skill and detail. . . . A Man and His Presidents thoroughly captures Buckley's life and decades-long career, a comprehensive portrait of one of the towering figures of 20th-century conservatism."—Andrew Burt, The Los Angeles Review of Books
"A well-balanced, richly detailed account of a most remarkable political journey. . . . Felzenberg's book surely won't be the final word on WFB's political odyssey; but for now, it is probably the best."—Rachel Currie, The National Review
"I've heard a lot of Buckley stories over the years, but Al Felzenberg's diligent mining of both the vast Buckley correspondence and the secondary literature on WFB brought to light some facets of the story of which I was insufficiently aware."—George Weigel, First Things
"William F. Buckley was the most consequential journalist of his era because he always was much more than a journalist. This is a brisk, groundbreaking examination of Buckley's history-shaping role as a tireless and sometimes audacious political operative."—George F. Will
"History comes alive as this lively and important book takes us on a trip covering Bill Buckley's views of twentieth-century presidents."—Former U.S. Secretary of State George P. Shultz
"Here is the political Buckley, a revelation of range and influence, wit, friendship, inexhaustible letter-writing, and a subtle evolution of views. As always with Buckley, love of the language came first."—James K. Galbraith, author of Welcome to the Poisoned Chalice: The Destruction of Greece and the Future of Europe
"Alvin Felzenberg tells the inside story of William F. Buckley, Jr.'s relations--intimate, supportive, adversarial--with American presidents over forty years. A fascinating peek behind the curtain."—Richard Brookhiser, author of Founders' Son: A Life of Abraham Lincoln
"Al Felzenberg's fascinating tour de force of research comes at the perfect time in American history, providing a sharp understanding of the continuing attraction of a key figure shaping our politics today."—Cokie Roberts, author and political commentator for NPR and ABC News
or
Not Currently Available for Direct Purchase