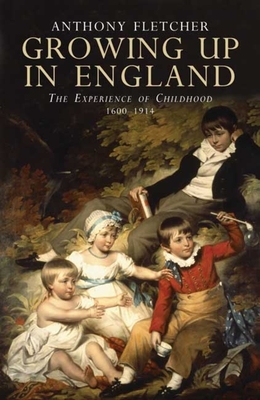 Growing Up in England
The Experience of Childhood 1600-1914
Paperback

* Individual store prices may vary.
Description
This book presents an entirely fresh view of the upbringing of English children in upper and professional class families over three centuries. Drawing on direct testimony from contemporary diaries and letters, the book revises previous understandings of parenting and what it was like to grow up in the period between 1600 and 1914.
Using advice literature which set out developing ideologies of childhood, gender and parenting, the book explores the separate but complementary roles of mothers and fathers in raising their children. Male upbringing is discussed in terms of schooling, female through the moral and social context of a domestic schoolroom dominated by a governess. Boys were trained for the world, girls for society and marriage. Rare teenage diaries surviving from the Georgian and Victorian periods show teenagers speaking for themselves about education; relationships with parents, siblings and friends;  and their social, class and gender identity.
Praise For Growing Up in England: The Experience of Childhood 1600-1914…
"Fletcher has written an important synthesis of the rearing of elite English children in the modern period. Using a wide variety of sources including diaries and letters, Fletcher details a continuity in parenting that has been generally overlooked. Recommended. All academic levels/libraries."—Choice
— Choice

"Growing Up in England is a valuable contribution to the histories of gender, families, education, and children. His simple argument: "gendered parenting. . . produced gendered children" should spur new inquiries into the gendered nature not only of childhood, but of adulthood and the institutions they created and inhabited." —Amy Harris, Journal of British Studies
— Amy Harris

"For Fletcher, children were instructed in class-specific masculinity and femininity in order that they could perform their gendered roles as adults. . . . Fletcher draws on extensive existing scholarship, as well as archival and printed source material, to demonstrate this thesis copiously. . . . Fletcher is intimately acquainted with the extraordinary relics of the Trench family, the twelve volumes of Lucy Lyttelton's lyrical diary, and many other gems dug up from county record offices."—Aysha Pollnitz, Journal of Modern History
— Aysha Pollnitz

"Meticulously documented...[Growing up in England draws] on a wealth of firsthand accounts of parents and children in letters and diaries."--Andrew O'Malley, 1650-1850
— Andrew O'Malley
Yale University Press, 9780300163964, 456pp.
Publication Date: April 20, 2010
About the Author
Anthony Fletcher has been professor of history at the Universities of Sheffield, Durham, and Essex, and director of the Victoria County History at London University. His previous books include Gender, Sex, and Subordination in England, 1500–1800. He lives in the UK.
or
Not Currently Available for Direct Purchase