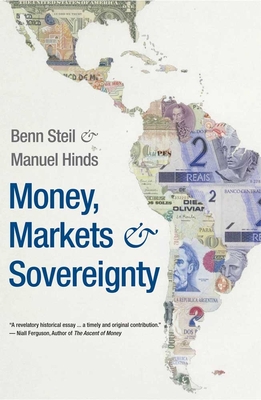 Money, Markets, and Sovereignty (Council on Foreign Relations Books) (Paperback)
Yale University Press, 9780300164589, 304pp.
Publication Date: March 30, 2010
Other Editions of This Title:
Hardcover (3/1/2009)
* Individual store prices may vary.
Description
Winner of the 2010 Hayek Book Prize given by the Manhattan Institute
"Money, Markets and Sovereignty is a surprisingly easy read, given the complicated issues covered. In it, Mr. Steil and Mr. Hinds consistently challenge today's statist nostrums."—Doug Bandow, The Washington Times
In this keenly argued book, Benn Steil and Manuel Hinds offer the most powerful defense of economic liberalism since F. A. Hayek published The Road to Serfdom more than sixty years ago. The authors present a fascinating intellectual history of monetary nationalism from the ancient world to the present and explore why, in its modern incarnation, it represents the single greatest threat to globalization.
Steil and Hinds describe the current state of international economic relations as both unusual and precarious. Eras of economic protectionism have historically coincided with monetary nationalism, while eras of liberal trade have been accompanied by a universal monetary standard. But today, the authors show, an unprecedentedly liberal global trade regime operates side by side with the most extreme doctrine of monetary nationalism ever contrived—a situation bound to trigger periodic crises. Steil and Hinds call for a revival of the political and economic thinking that underlay earlier great periods of globalization, thinking that is increasingly under threat by more recent ideas about what sovereignty means.
About the Author
Benn Steil is senior fellow and director of international economics, Council on Foreign Relations, and founding editor of the journal International Finance. Manuel Hinds is a business and government consultant and former fellow, Council on Foreign Relations. He has twice served as minister of finance in El Salvador.
or
Not Currently Available for Direct Purchase