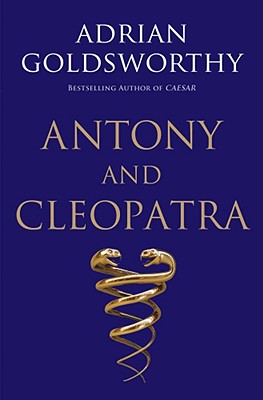 Antony and Cleopatra
Hardcover

* Individual store prices may vary.
Other Editions of This Title:
Digital Audiobook (6/1/2015)
Paperback (10/25/2011)
Paperback (9/6/2011)
Compact Disc (6/2/2015)
MP3 CD (6/2/2015)
Description
From the prizewinning author of Caesar and How Rome Fell, a major new account of the charged love affair between Antony and Cleopatra, richly informed by military and political history

A masterfully told—and deeply human—story of love, politics, and ambition, Adrian Goldsworthy's Antony and Cleopatra delivers a compelling reassessment of a major episode in ancient history.
In this remarkable dual biography of the two great lovers of the ancient world, Goldsworthy goes beyond myth and romance to create a nuanced and historically acute portrayal of his subjects, set against the political backdrop of their time. A history of lives lived intensely at a time when the world was changing profoundly, the book takes readers on a journey that crosses cultures and boundaries from ancient Greece and ancient Egypt to the Roman Empire.
Drawing on his prodigious knowledge of the ancient world and his keen sense of the period's military and political history, Goldsworthy creates a singular portrait of the iconic lovers. "Antony and Cleopatra were first and foremost political animals," explains Goldsworthy, who places politics and ideology at the heart of their storied romance. Undertaking a close analysis of ancient sources and archaeological evidence, Goldsworthy bridges the gaps of current scholarship and dispels misconceptions that have entered the popular consciousness. He explains why Cleopatra was consistently portrayed by Hollywood as an Egyptian, even though she was really Greek, and argues that Antony had far less military experience than anyone would suspect from reading Shakespeare and other literature. Goldsworthy makes an important case for understanding Antony as a powerful Roman senator and political force in his own right.
Praise For Antony and Cleopatra…
"Goldsworthy's strengths as a military historian are on full display."—Times Literary Supplement

— Times Literary Supplement
"[The] distinguished biographer of Julius Caesar . . . reproduces the claustrophobia of a brutal culture dependent on slavery and enslaved to ambition."—Judith Thurman, The New Yorker

— The New Yorker
"The book has considerable advantage over most of the other 'Antony and Cleopatra' histories on the shelves, providing a very detailed political and military account of the development of the two most important centers of the ancient world."—The National Interest
— The National Interest
"Adrian Goldsworthy is one of our most promising young military historians today."—Sir John Keegan, author of The Iraq War


— Sir John Keeagn
"Goldsworthy reveals that Antony and Cleopatra were far more complex, interesting, and ultimately human figures, than ancient propagandists or modern theorists have made them out to be. My guess is that they would approve, and so will readers."—Guy MacLean Rogers, Wellesley College
— Guy MacLean Rogers
"Goldsworthy is a rising star on the historical scene and has a number of well-regarded books to his credit. This will likely add to his growing reputation . . . [as] a first-class historian."—Washington Times

— Washington Times
"[Goldsworthy] tells the story of [Cleopatra's] dynasty with huge skill. . . . Carefully interweaved into this extraordinary tale is another: the rise of Rome from tatty city state to Mediterranean domination."—Peter Heather, BBC History Magazine

— Peter Heather
"[Goldsworthy] is excellent in puncturing the myth of Antony as a great Roman military tactician. . . . He is also refreshingly frank about the unimportance of Cleopatra herself. This was a world in which the power of Rome ruled."—Mary Beard,
Financial Times

— Mary Beard
"[Goldsworthy] does a splendid job of putting their lives in context and forcefully reminding us of the most salient aspects of their story while dispersing the romantic fog that has clung to them."—Christopher Silvester, The Express (London)

— Christopher Silvester
"Outstanding: filled with fascinating details of personality, power, sex and death. This is the best book I've read on Antony and Cleopatra—gripping and flamboyant yet scholarly and magesterial."--Simon Sebag Montefiore, author of Young Stalin and Jerusalem: The Biography
— Simon Sebag Montefiore
"Essential reading. . . . Goldsworthy's book is written in engaging prose that flows with charm and flair. . . . Goldsworthy has almost created a new genre of classics/ancient history titles: works that comfortably inhabit a middle ground between the unscholarly and the hyper-scholarly."—Bryn Mawr Classical Review
— Bryn Mawr Classical Review
"Goldsworthy admirably succeeds in highlighting the 'lost years' of Antony's life, and in offering an appraisal of the extant sources on Cleopatra that provides much of interest both to students and scholars. . . . Goldsworthy's history should be considered essential reading for anyone interested in the rise of Octavian and the birth of the principate. . . . Goldsworhty's book has most use for the undergraduate and graduate students of Roman history."—Lee Fratantuono, Bryn Mawr Classical Review
— Lee Fratantuono
"Highly recommended."—H. Chang, Choice
— H. Chang
Yale University Press, 9780300165340, 480pp.
Publication Date: September 28, 2010
About the Author
Adrian Goldsworthy is a leading historian of the ancient world. The author of many books, including How Rome Fell, Caesar, The Roman Army at War, and In the Name of Rome, he lectures widely and consults on historical documentaries produced by the History Channel, National Geographic, and the BBC. Goldsworthy is also the recipient of numerous prizes. He lives in Wales.
Coverage from NPR
or
Not Currently Available for Direct Purchase