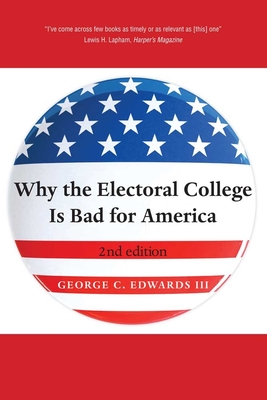 Why the Electoral College Is Bad for America (Paperback)
Yale University Press, 9780300166491, 272pp.
Publication Date: September 13, 2011
* Individual store prices may vary.
Description
Thoroughly revised and updated, with an extensive analysis of the 2008 election, this book remains the best analysis of the Electoral College for both students and general readers.
"The best book available on the electoral college. Edwards provides both an excellent review of the workings of the electoral college and an incisive analysis of the failings of the institution."—Marty Wattenberg, University of California, Irvine
"A wonderfully accessible discussion of every aspect of the system by which presidents are elected in the United States. . . . Edwards's book will be of interest to scholars and instructors focusing on the presidency (both currently and historically), as well as campaigns and elections."—David A. Dulio, Historian
About the Author
George C. Edwards III is Distinguished Professor and George and Julia Blucher Jordan Chair, Department of Political Science, Texas A&M University. He is also the editor of Presidential Studies Quarterly.
Praise For Why the Electoral College Is Bad for America…
"This crisp handbook . . . outlines the origins of the electoral college . . . and demonstrates the many ways it violates democratic norms."—New Yorker
"[An] excellent new book."—Timothy Noah, Slate
"Edwards offers a robust critique of the intricate device underpinning presidential elections. . . . A worthy, well-argued contribution to the debate."—Publishers Weekly
"I've come across few books as timely or as relevant as the one in which Professor Edwards suggests that the country now finds itself confronted not only with an absence of a coherent national politics but also with a constitutional crisis. . . . Edwards sets out to prove that the Electoral College is both needlessly complex and inherently unjust. . . . His principal lines of argument deserve extensive debate in both the news media and the Congress."—Lewis H. Lapham, Harper's Magazine
"Edwards . . . throws the kitchen sink, the stove and some old socks at the Electoral College. . . . His case is compelling. . . . [A] meticulous analysis."—Glenn C. Altschuler, New York Observer
"Edwards . . . methodically presents the case for eliminating the electoral college and replacing it with national popular elections. With excellent descriptions of how the elector system works, it is the most cogent and up-to-date criticism I have read. . . . The case that Edwards builds against the electoral college is strong, even overwhelming. Why the Electoral College is Bad for America will be widely cited in debates about our method of electing presidents."—Alexander Keyssar, New York Review of Books
"Time will tell whether the argument that the current system is so flawed and dangerous that the nation needs a constitutional amendment establishing a national direct election can gain momentum. But Edwards makes that case forcefully, as well or better than any other I know, and that is a genuine service."—Brian J. Gaines, Rhetoric and Public Affairs
"The most exquisitely precise and sweeping case I've ever seen for abolition of the Electoral College and adopting a straightforward vote of the people."—Neal Peirce, Seattle Times
"Dispensing keen political insights as he goes, George Edwards punctures the fallacious arguments used by supporters of the electoral college whenever criticism of that splendid anachronism grows hot, as it once again has."—Jack Rakove, Coe Professor of History and American Studies and Professor of Political Science, Stanford University
"The best book available on the electoral college. Edwards has crafted an entirely new and up-to-date book. He provides both an excellent review of the workings of the electoral college and an incisive analysis of the failings of the institution."—Marty Wattenberg, University of California, Irvine
"The most exquisitely precise and thorough case ever made for abolition of the electoral college system and substitution of a direct vote."—Neal R. Peirce, from the foreword
"An argumentative treatise, based on solid empirical data and sound logic, this book should generate considerable debate—the kind that the country should have had following the election of 2000 and Bush v. Gore."—Stephen Wayne, Georgetown University
or
Not Currently Available for Direct Purchase