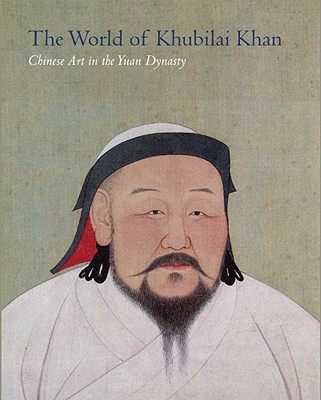 The World of Khubilai Khan (Hardcover)
Chinese Art in the Yuan Dynasty
Metropolitan Museum of Art New York, 9780300166569, 342pp.
Publication Date: October 26, 2010
* Individual store prices may vary.
Description
"The World of Khubilai Khan: Chinese Art in the Yuan Dynasty," which accompanies a groundbreaking exhibition at The Metropolitan Museum of Art, is an in-depth discussion of the art and culture produced during this time, tracing the origins of the new art forms and exploring daily life in Yuan China, in particular at the imperial court and in the capital cities of Xanadu (Shangdu) and Dadu (Beijing), and the impact on the arts of various religions. The works of art and the archaeological finds on which the ten essays included in this volume are based are drawn principally from museums in China, with additional loans from museums in Taiwan, Japan, Russia, Germany, the United Kingdom, Canada, and the United States. The exhibition and catalogue, conceived and organized by James C. Y. Watt, Brooke Russell Astor Chairman of the Department of Asian Art at the Metropolitan Museum, illuminate our understanding of both the arts and the material culture of this period, telling the story of the emergence of a new Chinese art in a way that it has never before been told.
In 1215, the year Khubilai Khan (1215 1294) was born, the Mongols made their first major incursion into North China, initiating a period of innovation in the arts that had its greatest flowering in the Yuan dynasty, founded by Khubilai in 1271 and lasting until 1368. The creativity unleashed during this period of approximately 150 years was instigated by the confluence of the many cultures and ethnic groups that were brought together in a unified empire in China, which for centuries past had been politically divided. Skilled craftsmen from all over Central and Western Asia were relocated to workshops in North China, where they worked alongside Chinese artists, exchanging ideas and styles.
This interaction eventually resulted in the creation of new art forms that would provide models for the arts of China in all subsequent periods until the twentieth century.
About the Author
James C. Y. Watt is the Brooke Russell Astor Chairman of the Department of Asian Art at The Metropolitan Museum of Art.
Praise For The World of Khubilai Khan: Chinese Art in the Yuan Dynasty…
"…beautifully illustrated catalog.."—Luxist

"…elaborately illustrated book…"—Birmingham Post
or
Not Currently Available for Direct Purchase