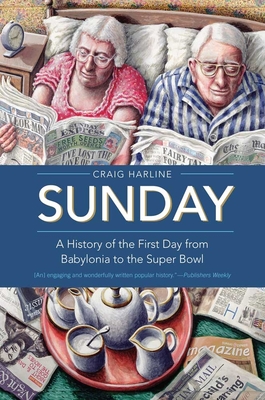 Sunday
A History of the First Day from Babylonia to the Super Bowl
Paperback

* Individual store prices may vary.
Description
The mere mention of "Sunday" will immediately conjure up a rich mix of memories, associations, and ideas for most anyone of any age. Whatever we think of-be it attending church, reading a bulky newspaper, eating brunch, or watching football-Sunday occupies a unique place in Western civilization. But how did we come to have a day with such a singular set of traditions?
Here, historian Craig Harline examines Sunday from its ancient beginnings to contemporary America in a fascinating blend of stories and analysis. For the earliest Christians, the first day of the week was a time to celebrate the liturgy, observe the Resurrection, and work. But over time, Sunday in the Western world took on still other meanings and rituals, especially in the addition of both rest and recreation to the day's activities. Harline illuminates these changes in enlightening profiles of Sunday in medieval Catholic England, Sunday in the Reformation, and Sunday in nineteenth-century France-home of the most envied and sometimes despised Sunday of the modern world. He continues with moving portraits of soldiers and civilians trying to observe Sunday during World War I, examines the quiet Sunday of England in the 1930s, and concludes with the convergence of various European traditions in the American Sunday, which also adds some distinctly original habits of its own, such as in the realms of commerce and professional sports.
With engaging prose and scholarly integrity, Sunday is an entertaining and long-overdue look at a significant hallmark of Western culture.
Praise For Sunday: A History of the First Day from Babylonia to the Super Bowl…
"Surprised me, held my attention, taught me things I didn't know and made me think. . . . The story is fascinating. . . . We touch down at intriguing moments in history and walk around to feel what Sunday was like. . . . I found myself entirely caught up in each period. The gritty realism of the account is compelling."—James Howell, Christian Century
— James Howell

"Social history, which can be in the wrong hands a dreary recitation of statistics comes alive in Sunday because the author gives it flesh and blood that makes one feel it is happening to real people...Full of delightful tidbits."—David Crawley, Anglican Journal
— David Crawley
Yale University Press, 9780300167030, 480pp.
Publication Date: September 13, 2011
About the Author
Craig Harline, a professor of history at Brigham Young University, is the author of A Bishop's Tale, The Burdens of Sister Margaret, and Miracles at the Jesus Oak. His research has been supported by the National Endowment for the Humanities, the American Philosophical Society, the American Council of Learned Societies, and other granting agencies. He lives in Provo, UT.