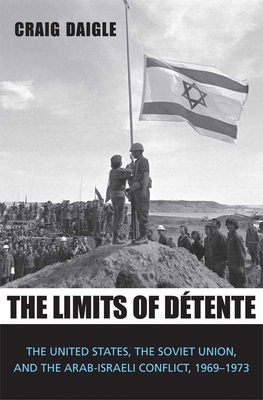 The Limits of Détente
The United States, the Soviet Union, and the Arab-Israeli Conflict, 1969-1973
Hardcover

* Individual store prices may vary.
Description
In the first book-length analysis of the origins of the October 1973 Arab-Israeli War, Craig Daigle draws on documents only recently made available to show how the war resulted not only from tension and competing interest between Arabs and Israelis, but also from policies adopted in both Washington and Moscow.
Between 1969 and 1973, the Middle East in general and the Arab-Israeli conflict in particular emerged as a crucial Cold War battleground where the limits of détente appeared in sharp relief. By prioritizing Cold War détente rather than genuine stability in the Middle East, Daigle shows, the United States and the Soviet Union fueled regional instability that ultimately undermined the prospects of a lasting peace agreement. Daigle further argues that as détente increased tensions between Arabs and Israelis, these tensions in turn negatively affected U.S.–Soviet relations.
Praise For The Limits of Détente: The United States, the Soviet Union, and the Arab-Israeli Conflict, 1969-1973…
 "A must-read book for everyone interested in Soviet-American relations in the Middle East."—Douglas Little, Clark University  
— Douglas Little
"No one has done a better job than Craig Daigle to explain the origins of the October 1973 war. He skillfully draws on recently declassified documents to make a convincing case that U.S.-Soviet détente had the paradoxical consequence of raising the odds of war in the Middle East."—William B. Quandt, University of Virginia
— William B. Quandt
 "A perceptive and detailed account of the origins of the 1973 war, especially useful for the Soviet dimension."—Wm. Roger Louis, University of Texas at Austin
— Wm. Roger Louis
 "This is the first work to explore fully the impact of the super-power rivalry on the 1973 Middle East war. It provides a meticulous reading of newly declassified documents and a judicious analysis of international relations at the height of détente."—Rashid Khalidi, Columbia University
— Rashid Khalidi
Yale University Press, 9780300167139, 448pp.
Publication Date: October 30, 2012
About the Author
Craig Daigle is assistant professor of history at the City College of New York.