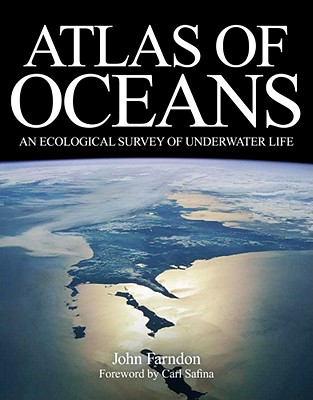 Atlas of Oceans
An Ecological Survey of Underwater Life
Hardcover

* Individual store prices may vary.
Other Editions of This Title:
Hardcover (3/1/2011)
Description
A vibrant journey through the Earth's oceans and a timely, important treatise on what must be done to save them

A tragedy is playing out beneath the surface of the world's bodies of marine waters, one that began long before the 2010 oil spill in the Gulf of Mexico. Although many books have explored the environmental problems being faced on land, Atlas of Oceans is the first book for a general audience that examines how creatures of the marine environment are if anything more vulnerable than their land-based counterparts.
Readers are introduced to the dazzling, diverse array of creatures that inhabit the oceans and seas, and to the nature of the problems they face. Special features focus on the threats to particular animals, plants, and habitats, as well as on specific issues like overfishing, global warming, and pollution. The book also includes success stories, recommendations for what can be done to preserve ocean ecosystems, and a complete rundown of the most endangered species of marine life.
Beautifully illustrated, packed with maps and diagrams, and containing up-to-the-minute data on the status of endangered marine species, Atlas of Oceans is a celebration of Earth's vibrant and awe-inspiring oceans and seas and an urgent call to action to protect one of our planet's most vital resources.
Praise For Atlas of Oceans: An Ecological Survey of Underwater Life…
"its most important virtue is the writing: clear, succinct and absorbing. It has something rare in a reference book: a voice. John Farndon tells a good story, he doesn't mince words in his conclusions, and he's not afraid to be funny..."—Bill Kowinski, North Coast Journal
— Bill Kowinski

"with good writing and photos, this book repays the time (and angst) involved. Information on separate topics is valuable and fascinating, but even more important and impressive is this comprehensive view of the great waters, three-quarters of our planet, and three-quarters of ourselves."—Bill Kowinski, North Coast Journal
— Bill Kowinski

"Informative and engaging . . . Outstanding color photographs and authoritative, accessible text define the Atlas of Oceans, which is recommended for public and undergraduate libraries."—Nancy Cannon, Booklist
— Nancy Cannon
Yale University Press, 9780300167504, 256pp.
Publication Date: February 22, 2011
About the Author
John Farndon studied earth sciences at Cambridge University and has written more than 300 reference and general interest books for children and adults, including How the Earth Works, Amazing Planet Earth, Natural World, China Rises, India Booms, 365: Modern History, The Universe Explained, and 101 Facts You Should Know about Food. His books have been translated into most major languages, and he has been shortlisted four times for the Royal Society Prize for Science Books. He lives in London.