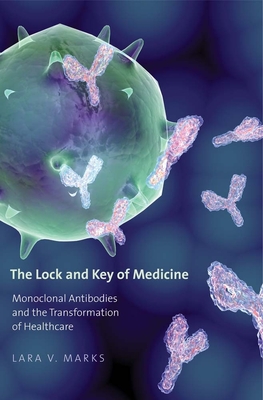 The Lock and Key of Medicine
Monoclonal Antibodies and the Transformation of Healthcare
Hardcover

* Individual store prices may vary.
Description
The untold story of monoclonal antibodies—the molecular heroes of biotechnology that revolutionized the diagnosis and treatment of more than fifty major diseases

This book is the first to tell the extraordinary yet unheralded history of monoclonal antibodies. Often referred to as Mabs, they are unfamiliar to most nonscientists, yet these microscopic protein molecules are everywhere, quietly shaping our lives and healthcare. Discovered in the mid-1970s in the laboratory where Watson and Crick had earlier unveiled the structure of DNA, Mabs have radically changed understandings of the pathways of disease. They have enabled faster, cheaper, and more accurate clinical diagnostic testing on a vast scale. And they have played a fundamental role in pharmaceutical innovation, leading to such developments as recombinant interferon and insulin, and personalized drug therapies such as Herceptin. Today Mabs constitute six of the world's top ten blockbuster drugs and make up a third of new introduced treatments.
 
Lara V. Marks recounts the risks and opposition that a daring handful of individuals faced while discovering and developing Mabs, and she addresses the related scientific, medical, technological, business, and social challenges that arose. She offers a saga of entrepreneurs whose persistence and creativity ultimately changed the healthcare landscape and brought untold relief to millions of patients. Even so, as Marks shows, controversies over Mabs remain, and she examines current debates over the costs and effectiveness of these innovative drugs.
Praise For The Lock and Key of Medicine: Monoclonal Antibodies and the Transformation of Healthcare…
"A masterful, original, and compelling account of how monoclonal antibodies progressed from a dicey laboratory technology to Nobel worthiness, and then were forged into a multibillion-dollar biomedical industry. A landmark history."—Daniel J. Kevles, Stanley Woodward Professor of History, Yale University
— Daniel J. Kevles

"Relevant, authoritative, and accessible to an educated but non-expert reader, The Lock and Key of Medicine provides a fascinating history of the development of Mabs."—Janice M. Reichert, Editor-in-Chief, mAbs
— Janice M. Reichert

"Extraordinary. . . . The amount of scholarship presented here is stunning, and constitutes a magnificent advance in the historiography of pharmacology and the pharmaceutical industry."—Malcolm Nicolson, University of Glasgow
— Malcolm Nicolson

"This unique, impressive and well-researched volume not only lays out the scientific basis underlying the monoclonal antibody revolution, but also deals sensitively with their evolution as commercial reagents and therapeutics."—Herman Waldmann, Oxford University
— Herman Waldmann

"A fascinating picture of one of the most important advances in modern medicine. Lock and Key provides insights for researchers, policy-makers, and all who care about the future of medical science."—Donald L. Drakeman, Centre for Health Leadership & Enterprise, University of Cambridge
— Donald L. Drakeman

"Lara Marks relates the 40-year history of monoclonal antibodies and also brilliantly captures the personalities and ideologies of the many individuals involved along with the clashes and controversies along the way."—Mike Clark, Cambridge University
— Mike Clark

"Marks gives us a truly amazing story of medical knowledge, drug development, and biotechnology involving monoclonal antibodies. The quiet revolution in our current therapeutic and diagnostic tool kit, based on Mabs, is nothing short of awesome."—William Summers, Yale University
— William Summers

"[W]ritten in an accessible style, Marks brings to life many of those who contributed to what she rightly describes as a transformative ability to understand, diagnose and treat disease."—Sir Geoffrey Owen, Financial Times
— Sir Geoffrey Owen
Yale University Press, 9780300167733, 344pp.
Publication Date: June 30, 2015
About the Author
Lara V. Marks is a historian of medicine. She is managing editor of the website whatisbiotechnology.org and has research affiliations with King's College London and Cambridge University. She lives in Kent, UK.
or
Not Currently Available for Direct Purchase