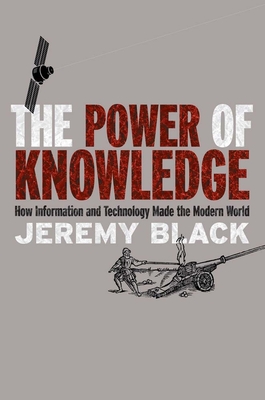 The Power of Knowledge
How Information and Technology Made the Modern World
Hardcover

* Individual store prices may vary.
Description
Information is power. For more than five hundred years the success or failure of nations has been determined by a country's ability to acquire knowledge and technical skill and transform them into strength and prosperity. Leading historian Jeremy Black approaches global history from a distinctive perspective, focusing on the relationship between information and society and demonstrating how the understanding and use of information have been the primary factors in the development and character of the modern age.   Black suggests that the West's ascension was a direct result of its institutions and social practices for acquiring, employing, and retaining information and the technology that was ultimately produced. His cogent and well-reasoned analysis looks at cartography and the hardware of communication, armaments and sea power, mercantilism and imperialism, science and astronomy, as well as bureaucracy and the management of information, linking the history of technology with the history of global power while providing important indicators for the future of our world.
Praise For The Power of Knowledge: How Information and Technology Made the Modern World…
"He is the most industrious historian of all time. The Power of Knowledge is his 108th book. It is apposite that he should quote Sherlock Holmes on his brother Mycroft: 'All other men are specialists, but his specialism is omniscience.' Black is the Mycroft of historiography."—Daniel Johnson, The Times
— The Times

"Jeremy Black's new book is a massive compendium of facts that suggestively interrogates the entanglement between information and western modernity. . .His impressive survey takes in censuses, literary rates, medicine, time-keeping, trains, telegraphs and space-shuttles, the Holocaust, the Star Wars films, and, of course, the internet."—Dr Aileen Fyfe, BBC History Magazine
— Dr Aileen Fyfe

"Fluency and wide-ranging erudition are conspicuously on display in The Power of Knowledge, an ambitious, synoptic, "big idea" book that is likely to extend the frontiers of Mr. Black's audience in this country."—Roger Kimball, The Wall Street Journal
— Roger Kimball

'Like a latterday Captain Cook, or Darwin on the Beagle perhaps, Jeremy Black evidently relishes the chance to journey to faraway places of the mind and to observe, collate and systematise all he has learned for the benefit of the rest of us.'—Daniel Snowman, History Today
— Daniel Snowman

"In his elucidation of topics ranging from navigation and cartography of the late medieval and early modern eras to the scientific revolution and Enlightenment, printing technology and the evolving role of media in state and society, to contemporary subjects such as quantum theory, space exploration, and artificial intelligence, Black shows how information has shaped power and politics around the globe in the modern era."—A.C. Stanley, CHOICE
— A.C. Stanley
Yale University Press, 9780300167955, 504pp.
Publication Date: January 14, 2014
About the Author
Jeremy Black is professor of history at the University of Exeter. He lives in Exeter, UK.
or
Not Currently Available for Direct Purchase