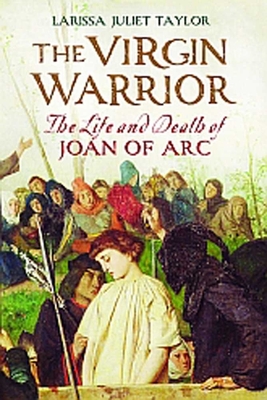 The Virgin Warrior
The Life and Death of Joan of Arc
Paperback

* Individual store prices may vary.
Description
France's great heroine and England's great scourge: whether a lunatic, a witch, a religious icon, or a skilled soldier and leader, Joan of Arc's contemporaries found her as extraordinary and fascinating as the legends that abound about her today. But her life has been so endlessly cast and recast that we have lost sight of the remarkable girl at the heart of it—a teenaged peasant girl who, after claiming to hear voices, convinced the French king to let her lead a disheartened army into battle. In the process she changed the course of European history.
In The Virgin Warrior, Larissa Juliet Taylor paints a vivid portrait of Joan as a self-confident, charismatic and supremely determined figure, whose sheer force of will electrified those around her and struck terror into the hearts of the English soldiers and leaders. The drama of Joan's life is set against a world where visions and witchcraft were real, where saints could appear to peasants, battles and sieges decided the fate of kingdoms and rigged trials could result in burning at the stake.  Yet in her short life, Joan emboldened the French soldiers and villagers with her strength and resolve.  A difficult, inflexible leader, she defied her accusers and enemies to the end.  From her early years to the myths and fantasies that have swelled since her death, Taylor teases out a nuanced and engaging story of the truly irresistible "ordinary" girl who rescued France.
Praise For The Virgin Warrior: The Life and Death of Joan of Arc…
"Larissa Juliet Taylor seeks the Joan of Arc who actually lived. It is a stunning portrayal rarely encountered. Joan is intelligent, strong, articulate, and above all inspirational. If you have been looking for one book that explains how this remarkable teenage girl could accomplish all that she achieved, then this is it." - Mack P. Holt, author of The French Wars of Religion
— Mack P. Holt
"Larissa Juliet Taylor has written a fresh and provocative biography of La Pucelle by emphasizing her transformation from a naive girl to a strong-willed, bold, and gifted captain of war who imposed her will on a kingdom and on history. This is an absorbing book that is almost impossible to put down." - Frederic J. Baumgartner, author of France in the Sixteenth Century
— Frederic J. Baumgartner
"This fine biography brings Joan fully to life not as a symbol for other eras but as a remarkable flesh and blood woman, who shaped her country and her times." - Keith P. Luria, North Carolina State University
— Keith P. Luria
"Larissa Juliet Taylor goes deep into Joan of Arc's heart and soul and shows us the maiden, the warrior and the heroine. She brings fourteenth century France to teeming, vibrant life and tells Joan's story with true sensitivity. Fascinating." - Kate Williams, author of
Becoming Queen
— Kate Williams
'An admirably nuanced, critical biography, which, in its straightforward approach to the sources, serves as a necessary corrective to much current scholarship…Taylor uses original and hitherto unexploited source material to great effect.'—Brenda Bolton, Church Times
— Brenda Bolton

"Taylor succeeds in producing a clear and exceptionally accessible biography. When she describes how 'The subtleties of court politics... were lost on Joan, pieces of a puzzle she never figured out. She heard what she wanted to hear, that the king would no longer make truces with Burgundy and that she would be able to take the fight to them' (p. 113), the reader cannot help but think that this portrait of Joan is an authentic one."—David J. Hay, The Journal of Military History
— David J. Hay

"By providing a straightforward narrative of Joan's life, reliant primarily upon English-language sources, Taylor orients this book towards a general audience. By attempting to make sense of this life and, in doing so, to make it less strange, she renders the book of interest to scholarly readers."—Karen Sullivan, Renaissance Quarterly
— Karen Sullivan


'Larissa Juliet Taylor succeeds in presenting Joan differently…not simply as a saint in the making which is what many previous biographers have done…This account however is a clear, concise and illuminating one, which goes some way to present Joan in a more human light.' — Belinda Webb, Tribune
— Belinda Webb
'An extraordinary story that is here told with understanding, sympathy, and authority.' — Contemporary Review
— Contemporary Review
". . . fresh points and analysis derived from many years of in-depth research and even more pondering. . . . [Joan's] story will doubtlessly continue to be told. But few will tell it as well as Larissa Taylor has."—Kelly DeVries,
Speculuma Journal of Medieval Studies
— Kelly DeVries
Yale University Press, 9780300168952, 280pp.
Publication Date: October 12, 2010
About the Author
Larissa Juliet Taylor is Professor of History at Colby College. She is the author of the award-winning Soldiers of Christ: Preaching in Late Medieval and Reformation France and Heresy and Orthodoxy in Sixteenth Century Paris.
or
Not Currently Available for Direct Purchase