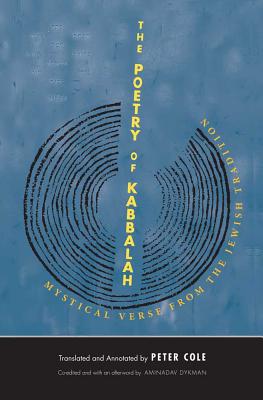 The Poetry of Kabbalah (Hardcover)
Mystical Verse from the Jewish Tradition
Yale University Press, 9780300169164, 544pp.
Publication Date: April 10, 2012
* Individual store prices may vary.
Description
This groundbreaking collection presents for the first time in English a substantial body of poetry that emerges directly from the sublime and often startling world of Jewish mysticism. Taking up Gershom Scholem's call to plumb the tremendous poetic potential concealed in the Kabbalistic tradition, Peter Cole provides dazzling renderings of work composed on three continents over a period of some fifteen hundred years.
In addition to the translations and the texts in their original languages, Cole supplies a lively and insightful introduction, along with accessible commentaries to the poems. Aminadav Dykman adds an elegant afterword that places the work in the context of world literature. As a whole, the collection brings readers into the fascinating force field of Kabbalistic verse, where the building blocks of both language and existence itself are unveiled.
Excerpts from The Poetry of Kabbalah have been featured in the Paris Review, Poetry, and Conjunctions.
Studded with insight, and written with great verve, this book will become a classic. Lawrence Fine, author of Physician of the Soul, Healer of the Cosmos
About the Author
Peter Cole is the author of three books of poetry and the translator of more than a dozen volumes from Hebrew and Arabic. His many honors include a Guggenheim Fellowship, the National Jewish Book Award for Poetry, and the PEN Translation Award for Poetry. In 2007 he was named a MacArthur Fellow. Aminadav Dykman teaches comparative literature at the Hebrew University, Jerusalem.
Praise For The Poetry of Kabbalah: Mystical Verse from the Jewish Tradition…
"The Poetry of Kabbalah is the crown of Peter Cole's sublime achievement as a poet-translator. Kabbalah is the alternate center of Judaic spiritual culture, not so much esoteric as superbly metaphoric. As poet and as imaginative exegete, Cole illuminates Kabbalah in the mode of Gershom Scholem and Moshe Idel."—Harold Bloom
-Harold Bloom

"Peter Cole offers a monumental view of the poetry of Kabbalah and honors the Kabbalistic reverence for song-as-knowledge by translating Hebrew into English song: his versions are graceful, clear, and most important, tuneful. They live in the ear and the heart, in English, with their own transformative power."—Rosanna Warren
-Rosanna Warren

"A groundbreaking work. Cole reveals and explores a subject that has hardly been noticed in previous scholarship or popular writing: the poetic aspect of Jewish mysticism. His translations are superb, his introductions to each section are clear and stimulating, and his notes are learned yet not intimidating, clarifying what would otherwise remain obscure. In short, he brings this material alive for a contemporary reader. This is a marvelous book."—Daniel Matt, author of The Essential Kabbalah and translator of The Zohar: Pritzker Edition
-Daniel Matt

"Resplendent. . . a dazzling treasury of verse spanning more than 1,500 years and accompanied by fascinating, illuminating commentary rich in history, biography, and literary expertise. . . . Cole has brilliantly preserved [the poems'] 'diverse prosodies' and ecstatic lyricism in his supple translations, allowing readers to fully appreciate how they grapple with 'timeless concerns'."—Booklist

"I've been reading and rereading. . . The Poetry of Kabbalah, an anthology of Jewish mystical verse translated by Peter Cole. This is ambitious poetry. It combines liturgical solemnity with outrageous flights of metaphor, and Cole's versions match the originals step for step."—Robyn Creswell, Paris Review Staff Picks
-Robyn Creswell

"A veritable banquet of poetry that gives resonant voice to the depths of religious longing and passionate devotion. . . . With its combination of poetic beauty, learned commentary and short introductory essays, The Poetry of Kabbalah offers the reader a substantial survey of Jewish mystical history and thought through the channel of richly textured lyric voices."—Eitan Fishbane, The Forward
-Eitan Fishbane

Won Honorable Mention in the 2012 New York Book Festival Poetry category, sponsored by the New York Book Festival
-Poetry Honorable Mention

"Stunning.... Cole insists on [this poetry's] relevance for the contemporary reader of poetry and, implicitly, for the secular Jew.... [He] chooses poems that seem to hover between mysticism and earthliness ... [and] virtuosically shows that the poetry [of Kabbalah] continues to retain its more earthly function."—Haaretz

 Honorable Mention in the Poetry Category at the 2012 New England Book Festival.
-Poetry Category Honorable Mention

Won a Honorable Mention for the 2012 Association of American Publishers PROSE Awards in the Literature Category.
-PROSE
or
Not Currently Available for Direct Purchase