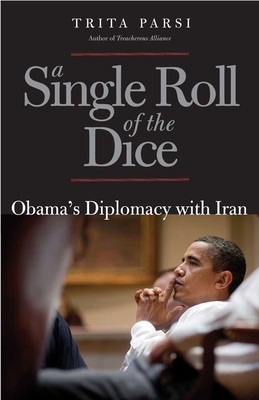 A Single Roll of the Dice (Hardcover)
Obama's Diplomacy with Iran
Yale University Press, 9780300169362, 304pp.
Publication Date: January 24, 2012
Other Editions of This Title:
Paperback (1/29/2013)
* Individual store prices may vary.
Description
The first objective assessment of the high-stakes diplomatic sparring between Washington and Tehran during President Obama's first years in office

Have the diplomatic efforts of the Obama administration toward Iran failed? Was the Bush administration's emphasis on military intervention, refusal to negotiate, and pursuit of regime change a better approach? How can the United States best address the ongoing turmoil in Tehran? This book provides a definitive and comprehensive analysis of the Obama administration's early diplomatic outreach to Iran and discusses the best way to move toward more positive relations between the two discordant states.
Trita Parsi, a Middle East foreign policy expert with extensive Capitol Hill and United Nations experience, interviewed 70 high-ranking officials from the U.S., Iran, Europe, Israel, Saudi Arabia, Turkey, and Brazil—including the top American and Iranian negotiators—for this book. Parsi uncovers the previously unknown story of American and Iranian negotiations during Obama's early years as president, the calculations behind the two nations' dealings, and the real reasons for their current stalemate. Contrary to prevailing opinion, Parsi contends that diplomacy has not been fully tried. For various reasons, Obama's diplomacy ended up being a single roll of the dice. It had to work either immediately—or not at all. Persistence and perseverance are keys to any negotiation. Neither Iran nor the U.S. had them in 2009.
About the Author
Trita Parsi is president of the National Iranian American Council and a former Public Policy Scholar at the Woodrow Wilson International Center for Scholars. In 2010 he received the Grawemeyer Award for Ideas Improving World Order, and he is frequently consulted by Western and Asian governments on foreign policy matters. He lives in McLean, VA.
Praise For A Single Roll of the Dice: Obama's Diplomacy with Iran…
"You gotta get this. . . . Really, it is an amazing perspective on all the elements that go into even the smallest of diplomatic deals."—Jon Stewart, The Daily Show
— Jon Stewart
"A must-read for all those interested in the relationship between Washington and Tehran."—Publishers Weekly, Starred Review
— Publishers Weekly
"[Parsi] explores an important issue in depth and with clarity, providing a useful view of current concerns about a nuclear Iran."—New Yorker
— New Yorker
"Well-timed...Absorbing...A tale of missed opportunities, obduracy and short-sightedness, all of which are pushing the Middle East towards greater instability."—Economist
— Economist
"The most incisive account available. . . . Eminently readable, sometimes gripping."—L. Carl Brown, Foreign Affairs 
— L. Carl Brown
"Perfectly-timed. . . . A carefully balanced and thoroughly researched account of the tortured US-Iranian relationship in recent years. Parsi is the ideal person to write it."—Julian Borger's Global Security Blog, The Guardian
— Julian Borger
"With the eye of a Washington insider, Trita Parsi assembles all the pieces of this complex puzzle in an original and persuasive way. I am aware of no one who has subjected the Obama administration's policy on Iran to this kind of sustained scrutiny. Parsi displays a nuanced understanding of the historical context and an exceptionally fine-tuned appreciation for the political conditions and vulnerabilities of both Iran and the United States."—Gary Sick, Columbia School of International and Public Affairs
— Gary Sick
"If you want to know the whole truth about how the Obama administration deals with Iran, read this pathbreaking book. Parsi shatters the myth that nuclear diplomacy with Iran is exhausted; it has yet to be genuinely tried."—R.K. Ramazani, Edward R. Stettinius Professor Emeritus, University of Virginia
— R.K. Ramazani
"Trita Parsi's gripping account is a must-read for anyone fascinated by the human details of recent diplomacy. Parsi recounts it all—the misunderstandings, the fears, the prejudices, the ambitions, and the misreading—that have hobbled American efforts to end three decades of futility with Iran."—John Limbert, Deputy Assistant Secretary of State under the Obama administration
— John Limbert


"No one in the United States knows more about Iran, or can speak more authoritatively about the complex historical relationship between Iran and the US, than Trita Parsi. A Single Roll of the Dice is a must-read."—Reza Aslan, author of No god but God: The Origins, Evolution, and Future of Islam
— Reza Aslan
"Parsi has done a great service by writing the first book on how the Obama administration and Iran missed yet another opportunity for reconciliation . . . [He] explains what went wrong on both sides as well the events and third parties that helped insure that diplomacy would be given only a minimal chance to succeed. Parsi is well qualified to analyse the sad course of U.S.-Iran relations . . . His new book will appeal to specialists and the general public."—Barbara Slavin, IPS
— Barbara Slavin
"With this book, Trita Parsi has given us an authoritative document on one of today's most urgent and nettlesome foreign policy challenges. He not only draws on the published record, but contributes original reporting from the vantage points of all the players, including the Iranian perspective. It will be edifying for a wide range of readers, from foreign policy specialists to anyone with a stake in the outcome—which is all of us."—David Shorr, Bulletin of the Atomic Scientists
— David Shorr
"In this penetrating, thoughtful, and engaging book, Parsi (president, National Iranian American Council) gives the reader a rare glimpse into the complexities of the Obama administration's policy toward the Islamic Republic of Iran in the first three years of his administration. . . . his analysis is balanced, piercing, insightful, refreshing, and rich in facts and details. Readers are going to find much food for thought in this volume, which sheds light on one of the most vexing political imbroglios of the last 30 years . . . this timely book is a must read."—M. Dorraj, Choice
— M. Dorraj
Named One of The Best Books of 2012 on the Middle East by Foreign Affairs 
— Foreign Affairs
Selected as a Choice Outstanding Academic Title 2012 for International Relations within the Social and Behavioral Sciences category.
— Outstanding Academic Title
Selected as a Choice Outstanding Academic Title 2012 for subcategory Western Europe within the Social and Bahavioral Sciences category.
— Outstanding Academic Title
or
Not Currently Available for Direct Purchase