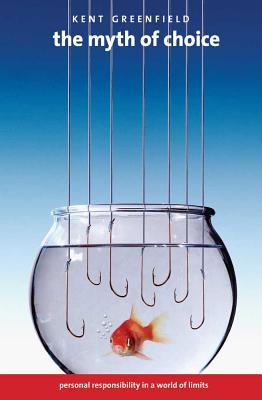 The Myth of Choice (Hardcover)
Personal Responsibility in a World of Limits
Yale University Press, 9780300169508, 256pp.
Publication Date: October 1, 2011
Other Editions of This Title:
Paperback (11/13/2012)
* Individual store prices may vary.
Description
Americans are fixated on the idea of choice. Our political theory is based on the consent of the governed. Our legal system is built upon the argument that people freely make choices and bear responsibility for them. And what slogan could better express the heart of our consumer culture than "Have it your way"?
In this provocative book, Kent Greenfield poses unsettling questions about the choices we make. What if they are more constrained and limited than we like to think? If we have less free will than we realize, what are the implications for us as individuals and for our society? To uncover the answers, Greenfield taps into scholarship on topics ranging from brain science to economics, political theory to sociology. His discoveries—told through an entertaining array of news events, personal anecdotes, crime stories, and legal decisions—confirm that many factors, conscious and unconscious, limit our free will. Worse, by failing to perceive them we leave ourselves open to manipulation. But Greenfield offers useful suggestions to help us become better decision makers as individuals, and to ensure that in our laws and public policy we acknowledge the complexity of choice.
About the Author
Kent Greenfield is professor of law and law fund research scholar, Boston College. He is author of "The Failure of Corporate Law: Fundamental Flaws and Progressive Possibilities" and numerous scholarly law articles. He lives in Cambridge, MA.
Praise For The Myth of Choice: Personal Responsibility in a World of Limits…
"Informative, lively and provocative, The Myth of Choice has important implications for the decisions we make in our everyday lives."—Glenn C. Altschuler, Oregonian
-Glenn C. Altschuler

"A fascinating, engaging dissection of the meanings and implications of choice in a wide variety of cultural arenas."—Matthew Tiffany, Shelf Awareness
-Matthew Tiffany

"The Myth of Choice isn't just tightly argued, it's an enjoyable read as well…Comprehensive and readable enough to satisfy both newcomers and veterans of this debate."—Boston Globe

"Greenfield unpacks the complexities masked by the free-market bromides, which pass for economic debate in the United States, deftly dispatching ossified conventional wisdom that completely ignores our growing knowledge of how people actually make decisions. "—Boston Globe

"Informative, lively and provocative, The Myth of Choice: Personal Responsibility in a World of Limits has important implications for the decisions we make in our everyday lives."—Glenn C. Altschuler, The Sunday Oregonian
-Glenn C. Altschuler

"[F]ascinating . . . it is undeniably important that we become better aware of the forces that subtly and profoundly limit our choices."—Michael Kroner, The Plain Dealer
-Michael Kroner
or
Not Currently Available for Direct Purchase