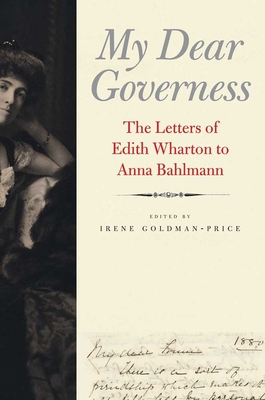 My Dear Governess
The Letters of Edith Wharton to Anna Bahlmann
Hardcover

* Individual store prices may vary.
Description
A rich trove of letters from Edith Wharton to her governess, written over the course of their long and affectionate friendship

An exciting archive came to auction in 2009: the papers and personal effects of Anna Catherine Bahlmann (1849–1916), a governess and companion to several prominent American families. Among the collection were one hundred thirty-five letters from her most famous pupil, Edith Newbold Jones, later the great American novelist Edith Wharton. Remarkably, until now, just three letters from Wharton's childhood and early adulthood were thought to survive. Bahlmann, who would become Wharton's literary secretary and confidante, emerges in the letters as a seminal influence, closely guiding her precocious young student's readings, translations, and personal writing. Taken together, these letters, written over the course of forty-two years, provide a deeply affecting portrait of mutual loyalty and influence between two women from different social classes.
This correspondence reveals Wharton's maturing sensibility and vocation, and includes details of her life that will challenge long-held assumptions about her formative years. Wharton scholar Irene Goldman-Price provides a rich introduction to My Dear Governess that restores Bahlmann to her central place in Wharton's life.
Praise For My Dear Governess: The Letters of Edith Wharton to Anna Bahlmann…
"Making these previously unknown letters available would in itself be a valuable service, but Goldman-Price has gone far beyond that in her general introduction, introductions to each letter, and notes. The letters in this book will change the way in which we read Wharton's early life and intellectual development."—Donna Campbell, Washington State University
— Donna Campbell
"One of the most astonishing instances of literary eavesdropping in the history of American letters. A moving and illuminating revelation."—Alberto Manguel
— Alberto Manguel


"This skillfully edited collection sheds new light on Wharton's childhood and early career and provides important insights into her artistic and emotional life. Goldman-Price's lucid introduction and commentary situate the letters in a compelling biographical narrative that introduces us to the little-known Bahlmann and encourages us to reassess our understanding of Wharton's approach to personal relationships and class differences."—Gary Totten, President, Edith Wharton Society
— Gary Totten


"This extraordinary collection reveals a young Wharton with a voracious intellectual appetite, and a woman, who, throughout her life, is by turns cheeky, exuberant, adventurous, and compassionate. Wharton's lifelong relationship with Bahlmann is as intricate as the lives of Wharton's finest fictional characters, and Goldman-Price's illuminating commentary masterfully weaves the backdrop against which this remarkable friendship unfolds."—Susan Wissler, executive director of The Mount, Edith Wharton's Estate and Gardens
— Susan Wissler

"The 135 letters in this volume. . . are especially valuable because they represent a period for which little primary Wharton documentation is known to exist. . . Essential for Wharton scholars as well as informed general readers interested in Wharton or her literary and social circles."—Library Journal
— Library Journal


"Goldman-Price's wide knowledge of Wharton's life is revealed in her nuanced, trenchant narrative. . . The early letters. . .have a wonderful freshness, as we see an eager, confident Edith revealing an abundance of literary and personal details. . . One of the most fascinating aspects of My Dear Governess is that although there are no letters from Bahlmann, she comes alive . . . It is all interesting, a terrific addition to Wharton scholarship."—Roberta Silman, Boston Globe
— Roberta Silman

"…a valuable addition for scholars and completists…"—Sarah Churchwell, The New Statesman
— Sarah Churchwell

"The letters provide penetrating insights into the Pulitzer Prize-winning novelist who chronicled old New York and developed a close friendship with another aristocratic Gotham native, Henry James."—Sam Roberts, New York Times
— Sam Roberts

"From cover to cover, the book is a pleasure for those interested in literature, visual art, travel, dogs, female friendship, and life as it was lived from the Gilded Age through the Great War. For scholars of Wharton, this is a must-read, as the letters reveal a new—in many cases tender, affectionate, vulnerable, hopeful—side of Wharton and challenge previously held conceptions of the writer and her biography."—Emily Orlando, American Book Review
— Emily Orlando

"Eloquently introduced and meticulously annotated by Goldman-Price, this book is a gem on many levels. Offering insight into the formation of the artist and the adolescent female mind, in particular, it is trove not only for fans and scholars of Edith Wharton but also for anyone interested in childhood and gender studies, and the shaping forces of class and age."—Carol J. Singley, Women's Review of Books
— Carol J. Singley

"In, My Dear Governess, Irene Goldman-Price produces a volume rich in insight into Wharton's career and its social and biographical contexts." —Melanie Dawson, College of William and Mary
— Melanie Dawson
Yale University Press, 9780300169898, 336pp.
Publication Date: June 5, 2012
About the Author
Irene Goldman-Price has taught literature and women's studies at Ball State University and Penn State University. She serves on the editorial board of the Edith Wharton Review and has consulted and taught at The Mount, Edith Wharton's house museum in Massachusetts. In 2010–2011 she was a visiting fellow at Yale University's Beinecke Rare Book and Manuscript Library, where the Wharton letters are held.