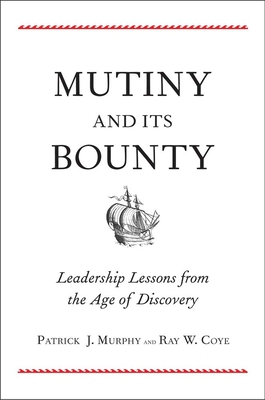 Mutiny and Its Bounty
Leadership Lessons from the Age of Discovery
Hardcover

* Individual store prices may vary.
Description
Mutinies in today's organizations are less violent than the shipboard rebellions of Columbus's day, but the challenges leaders face are very much the same

Violent mutiny was common in seafaring enterprises during the Age of Discovery—so common, in fact, that dealing with mutineers was an essential skill for captains and other leaders of the time. Mutinies in today's organizations are much quieter, more social and intellectual, and far less violent, yet the coordinated defiance of authority springs from dissatisfactions very similar to those of long-ago shipboard crews. This highly original book mines seafaring logs and other archives of fifteenth- and sixteenth-century ship captains and discovers instructive lessons for today's leaders facing challenges to their authority as well as for other members of organizations in which mutinous events occur.
 
The book begins by examining mutinies against great explorer captains of the Age of Discovery: Christopher Columbus, Ferdinand Magellan, Sebastian Cabot, and Henry Hudson. The authors then identify lessons that entrepreneurs, leaders, and other members may apply to organizational insurrections today. They find, surprisingly, that mutiny may be a force for good in an organization, paving the way to more collaborative leadership and stronger commitment to shared goals and values.
Praise For Mutiny and Its Bounty: Leadership Lessons from the Age of Discovery…
"This is an original, engaging and really well-written book that examines how leaders can deal with dissent in organizations. Murphy and Coye do fantastic work in exploring how 21st Century organizational mutinies can be the catalyst for organizational change and innovation."—TopExcutive Guide
— Andy Adcroft
Yale University Press, 9780300170283, 304pp.
Publication Date: March 19, 2013
About the Author
Patrick J. Murphy is associate professor of management, DePaul University. He is chair of the Management History Division in the Academy of Management. He lives in Chicago, IL. Ray W. Coye is associate professor emeritus of management, DePaul University. He lives in Ferndale, WA. The authors each have maritime service backgrounds and seafaring experience.