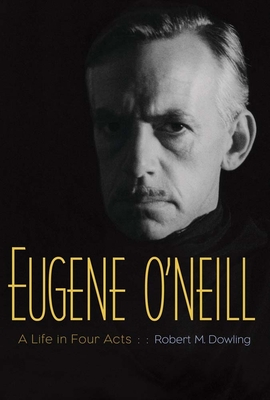 Eugene O'Neill (Hardcover)
A Life in Four Acts
Yale University Press, 9780300170337, 584pp.
Publication Date: October 28, 2014
Other Editions of This Title:
Paperback (3/22/2016)
* Individual store prices may vary.
Description
A major new biography of the Nobel Prize–winning playwright whose brilliantly original plays revolutionized American theater
Finalist for the Los Angeles Times Book Prize

This extraordinary new biography fully captures the intimacies of Eugene O'Neill's tumultuous life and the profound impact of his work on American drama. Robert M. Dowling innovatively recounts O'Neill's life in four acts, thus highlighting how the stories he told for the stage interweave with his actual life stories. Each episode also uncovers how O'Neill's work was utterly intertwined with, and galvanized by, the culture and history of his time.

Much is new in this extensively researched book: connections between O'Neill's plays and his political and philosophical worldview; insights into his Irish upbringing and lifelong torment over losing faith in God; his vital role in African American cultural history; unpublished photographs, including a unique offstage picture of him with his lover Louise Bryant; new evidence of O'Neill's desire to become a novelist and what this reveals about his unique dramatic voice; and a startling revelation about the release of Long Day's Journey Into Night in defiance of his explicit instructions. This biography is also the first to discuss O'Neill's lost play Exorcism (a single copy of which was only recently recovered), a dramatization of his own suicide attempt.

Written with lively informality yet a scholar's strict accuracy, Eugene O'Neill: A Life in Four Acts is a biography that America's foremost playwright richly deserves.
About the Author
Robert M. Dowling is professor of English at Central Connecticut State University. He has published extensively on O'Neill and serves on the board of directors of the Eugene O'Neill Society.
Praise For Eugene O'Neill: A Life in Four Acts…
"Robert M. Dowling's thoughtful book restores balance to the slightly skewed twenty-first century reputation of America's greatest playwright. . . . [An] important story, perceptively recounted."—Wendy Smith, Washington Post
— Wendy Smith
"A well-rounded portrait of the playwright that can serve as a comprehensive introduction while also considering previously unknown facets of O'Neill's life and work."—John Frank, Library Journal
— John Frank
"Absorbing . . . insightful . . . unflinchingly explores the darkness that dominated O'Neill's life."—Publishers Weekly
— Publishers Weekly
"[A] clear-eyed, just-the-facts biography . . . Dowling brings all [O'Neill's] herculean activity vividly to life."—Ray Olson, Booklist
— Ray Olson
"Smoothly engaging . . . [the] O'Neill biography to read."—Steve Donoghue, Open Letters Monthly
— Steve Donoghue
"[A] richly drawn portrait . . . neither a hagiography nor a takedown . . . As a biographer, Dowling is generous and inclusive."—Rachel Shteir, Bookforum
— Rachel Shteir
"[A] sympathetic, comprehensive portrait."—Kirkus Reviews
— Kirkus Reviews
'Most writers' lives are slow, deskbound things; O'Neill's life, by contrast, was crammed with incident. Robert M. Dowling, a world expert on him, tells his story with pace and narrative skill, never getting bogged down in plot exposition or textual analysis.'—John Walsh, The Sunday Times

— John Walsh
"Fast-paced, highly readable . . . a powerful narrative, with a fresh perspective . . . building to a devastating last act."—Joe Dowling, Irish Times
— Joe Dowling
'O'Neill's struggle to wrench American theatre into splendour, fear and greatness is the subject of Robert M. Dowling's excellent new life of the playwright, which elegantly balances knowledgeable readings of the plays and their social content with O'Neill's famously turbulent life.'—Sarah Churchwell, The Spectator
— Sarah Churchwell
"Dowling has written the single most complete and up-to-date account of O'Neill's life that we have….To call his scholarship 'sound' is vastly to understate it; his accomplishment in marshalling all this disparate and often obscure material into a well-organized and highly readable account is nothing less than astonishing."—JACKSON R. BRYER, co-editor of Selected Letters of Eugene O'Neill

— Jackson R. Bryer
"Dowling's brilliant, unvarnished yet compassionate biography, written with verve and based on exciting new research, depicts how O'Neill transmogrified his personal agonies and triumphs into the greatest American drama of the 20th century. A definitive portrait."—J. MICHAEL LENNON, author of Norman Mailer: A Double Life 

— J. Michael Lennon
"A passionate, informed author, Dowling writes the story with his blood. His palpable affection and empathy for his subject allows him to expose the tortured journey of this complicated life, giving us profound insight into the incomparable dramas of Eugene O'Neill. What sets this biography apart from others on the playwright is that it comes from a gifted disciple who identifies with his subject and brings an Irish storyteller's sensibility that feels altogether authentic. Staging the works of O'Neill is my passion. I have now found my handbook."—CIARÁN O'REILLY, Irish Repertory Theatre

— Ciaran O'Reilly
"It's astonishing to see that the life of Eugene O'Neill lives up to the plays.  He charged through the first half of the twentieth century like a man on fire, lighting up the American stage with blistering, poetic dramas that won for him a huge and grateful audience, even the Nobel Prize for Literature. Robert M. Dowling is equal to the task here, a biographer who writes with a novelist's sense of narrative momentum. In fluid prose, he summons the wild, intense, sad, and comic world of O'Neill with empathy and profound critical intelligence. This life of O'Neill will last."—JAY PARINI, author of The Last Station: A Novel of Tolstoy's Final Year

— Jay Parini
"A biography that equals its predecessors and, in the eye of this reader, supersedes them . . . Dowling peels away hearsay in favor of proven accuracy and the result is a memorable portrait . . . An important addition to O'Neill scholarship."—James Fisher, TLA (Theatre Library Association) Online
— James Fisher
"Dowling . . . effortlessly guides the reader through O'Neill's fascinating life . . . [A] complex, captivating narrative."—Caitlin Mattera, Key Reporter
— Caitlin Mattera
Finalist for the Los Angeles Times Book Prize in the Biography category.
— Book Prize
"This dutiful biography gives us more insight into the man, the women in his life, [and] the people who governed his place in American theatre."—Tony Vellela, Intermission Talk
— Tony Vellela
"A worthy successor to previous major biographies . . . Dowling has such a strong grasp of O'Neill's temperament and predilections and conveys a refreshingly demystified sense of his personal dealings . . . Along with some important new findings, Dowling has given us an O'Neill very much of his own time as well as one for ours."—Kurt Eisen, Eugene O'Neill Review
— Kurt Eisen
"Indispensable"—John Simon, Weekly Standard
— John Simon
"Scrupulously researched and elegantly written . . . A life that feels like one of [O'Neill's] epic tragic-comic plays . . . required reading for anyone in the theater." —Nathan Lane, New York Times ("By the Book")
— Nathan Lane
"Indispensable"—Andrea Simakis, Cleveland Plain Dealer
— Andrea Simakis
or
Not Currently Available for Direct Purchase