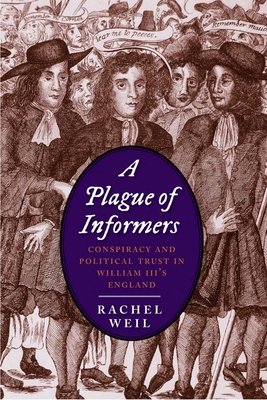 A Plague of Informers (Hardcover)
Conspiracy and Political Trust in William III's England (The Lewis Walpole Series in Eighteenth-Century Culture and History)
Yale University Press, 9780300171044, 360pp.
Publication Date: January 7, 2014
* Individual store prices may vary.
Description
Stories of plots, sham plots, and the citizen-informers who discovered them are at the center of Rachel Weil's compelling study of the turbulent decade following the Revolution of 1688. Most studies of the Glorious Revolution focus on its causes or long-term effects, but Weil instead zeroes in on the early years when the survival of the new regime was in doubt. By encouraging informers, imposing loyalty oaths, suspending habeas corpus, and delaying the long-promised reform of treason trial procedure, the Williamite regime protected itself from enemies and cemented its bonds with supporters, but also put its own credibility at risk.
About the Author
Rachel Weil is professor of history at Cornell University. She lives in Seneca Falls, NY.
Praise For A Plague of Informers: Conspiracy and Political Trust in William III's England (The Lewis Walpole Series in Eighteenth-Century Culture and History)…
"A Plague of Informers is an exciting and important contribution to our understanding of the politics of transitions. Weil preserves the chaos and uncertainty of her story, noting the limits of the evidence and inviting the reader to share in the challenges of interpretation. This is a rare and lovely accomplishment."—Alan Houston, University of California, San Diego
— Alan Houston
"Written in a thoroughly accessible and engaging style, with rattling good stories about plots and alleged plots, informers and government surveillance, con men and rogues, and political pamphleteering and propaganda, A Plague of Informers offers and extremely important new interpretation of the revolutionary regime established in 1688-89 by studying in detail its fragile and highly contested first years from 1689 to 1697. It should appeal to general readers as well as to students and specialists in English, history, and political science."—John Marshall, Johns Hopkins University
— John Marshall
"Rachel Weil is one of the very few most creative historians of early modern Britain. In A Plague of Informers she asks how and why a government is able to gain political trust in the wake of revolution or regime change. In a carefully argued and engaging narrative,  Weil demonstrates what new regimes, no matter their commitment to 'liberty' however defined, have to generate trust from their subjects by dealing with those who do not share in their definitions of liberty and security. Liberal regimes, even paradigmatic ones such as that established in Britain after 1688, have to establish themselves with illiberal actions."—Steve Pincus, Yale University
— Steve Pincus
"[An] important book . . . Plots, as this work makes clear, were actually as much a cultural phenomenon—a moral panic—as a reality."—The Scriblerian
— The Scriblerian
"It is a lively and well-researched piece of work to which readers can return for an expert guide through the confusing but fascinating labyrinths of late-seventeenth century plotting."—Mark Knights, History Workshop Quarterly
— Mark Knights
or
Not Currently Available for Direct Purchase