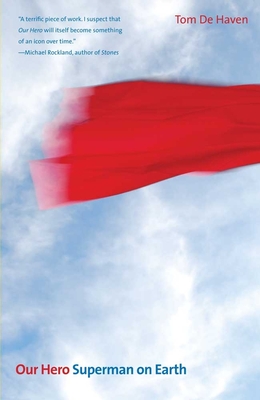 Our Hero
Superman on Earth (Icons of America)
Paperback

* Individual store prices may vary.
Description
From the author of It's Superman!, an exuberant and original exploration of America's most iconic comic book hero

Since his first appearance in Action Comics Number One, published in late spring of 1938, Superman has represented the essence of American heroism. "Faster than a speeding bullet, more powerful than a locomotive, and able to leap tall buildings in a single bound," the Man of Steel has thrilled audiences across the globe, yet as life-long "Superman Guy" Tom De Haven argues in this highly entertaining book, his story is uniquely American.
Created by Jerry Siegel and Joe Shuster in the midst of the Great Depression, Superman is both a transcendent figure and, when posing as his alter-ego, reporter Clark Kent, a humble working-class citizen. An orphan and an immigrant, he shares a personal history with the many Americans who came to this country in search of a better life, and his amazing feats represent the wildest realization of the American dream. As De Haven reveals through behind-the-scenes vignettes, personal anecdotes, and lively interpretations of more than 70 years of comic books, radio programs, TV shows, and Hollywood films, Superman's legacy seems, like the Man of Steel himself, to be utterly invincible.
Yale University Press, 9780300171242, 240pp.
Publication Date: May 31, 2011
About the Author
Tom De Haven, author of the novel It's Superman!, is professor in the department of English at Virginia Commonwealth University. He lives in Midlothian, VA.
or
Not Currently Available for Direct Purchase