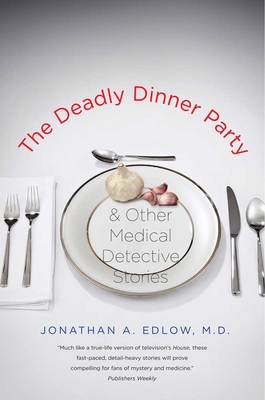 The Deadly Dinner Party
and Other Medical Detective Stories
Paperback

* Individual store prices may vary.
Other Editions of This Title:
Digital Audiobook (6/15/2020)
MP3 CD (6/16/2020)
Compact Disc (6/16/2020)
Description
ER and House meet Sherlock Holmes in these riveting and true stories of medical detective work.

Picking up where Berton Roueché's The Medical Detectives left off, The Deadly Dinner Party presents fifteen edge-of-your-seat, real-life medical detective stories written by a practicing physician. Award-winning author Jonathan Edlow, M.D., shows the doctor as detective and the epidemiologist as elite sleuth in stories that are as gripping as the best thrillers.
In these stories a notorious stomach bug turns a suburban dinner party into a disaster that almost claims its host; a diminutive woman routinely eats more than her football-playing boyfriend but continually loses weight; a young executive is diagnosed with lung cancer, yet the tumors seem to wax and wane inexplicably. Written for the lay person who wishes to better grasp how doctors decipher the myriad clues and puzzling symptoms they often encounter, each story presents a very different case where doctors must work to find the accurate diagnosis before it is too late. Edlow uses his unique ability to relate complex medical concepts in a writing style that is clear, engaging and easily understandable. The resulting stories both entertain us and teach us much about medicine, its history and the subtle interactions among pathogens, humans, and the environment.
Praise For The Deadly Dinner Party: and Other Medical Detective Stories…
"Readers will . . . find that every medical diagnosis is a puzzle to be solved, often by gathering and analyzing data with the help of a team. Much like a true-life version of television's
House M.D.,
these fast-paced, detail-heavy stories will prove compelling for fans of mystery and medicine."—
Publishers Weekly
"With Atul Gawande and Jerome Groopman, Edlow is one of a distinguished group of literary Harvard medical professors who write lucidly about complex medical issues. . . . Edlow's stories are told with the easy grace of an accomplished writer who builds on, then hides, the depth of his research."—Hugh Dillon,
Sydney Morning Herald
"If you watch House for the medical mysteries, this is for you. Edlow tracks a series of unusual diseases or conditions from the initial illness, though the clues, dead ends and inspired deductions that littered the path to effective treatment."—
Herald Sun
"Anyone with a penchant for the TV show House, or even a general interest in the more puzzling illnesses, will be engaged by the entertaining case studies. Edlow explores the history of disease through individual cases, without too much scientific jargon."—
Sunday Mail
"Edlow tells these tales of medical detection with wit and elegance. . . . More of such stuff, and Edlow could easily become the dean, the Dr. Watson, as it were, of doctors who solve medical mysteries."—
Booklist
"Edlow presents cases of mass food poisoning, lung cancer, hyperthyroidism, and more, under fun titles (e.g., "The Case of the Overly Hot Honeymoon") and in an engaging narrative full of twists and turns. It is an entertaining read."—M. M. Gillis,
Choice
Winner of the 2010 Will Solimene Award for Excellence in Medical Communication, given by the New England Chapter of the American Medical Writers Association
"Offers mystery stories in the tradition of Berton Roueché that are every bit as exciting and illuminating as the originals. Edlow's stories are replete with information about strange medical adventures and treatments that any of us might experience one day."—Philip A. Mackowiak, M.D., University of Maryland School of Medicine
"An intriguing collection of medical 'detective' stories, this book both entertains and meets the general need for medical knowledge."—Stephen H. Zinner, M.D., Harvard Medical School, Mount Auburn Hospital
"Drama, intrigue, solid detective work are the fabric on which Edlow weaves a bountiful collection of fascinating stories. It will inform and keep you spellbound. The pulse is exciting, the thrill of discovery palpable. Masterfully written."—Sanjiv Chopra, M.D., Harvard Medical School, author of Dr. Sanjiv Chopra's Liver Book
"These interesting medical tales educate as well as entertain."—Sandeep Jauhar, M.D., author of Intern: A Doctor's Initiation
Yale University Press, 9780300171266, 264pp.
Publication Date: February 22, 2011
About the Author
Jonathan A. Edlow, M.D., F.A.C.P., is vice chair of emergency medicine, Beth Israel Deaconess Medical Center, and associate professor of medicine, Harvard Medical School. He is the author of the award-winning Bull's Eye: Unraveling the Medical Mystery of Lyme Disease and Stroke. He lives in Newtonville, MA.
or
Not Currently Available for Direct Purchase