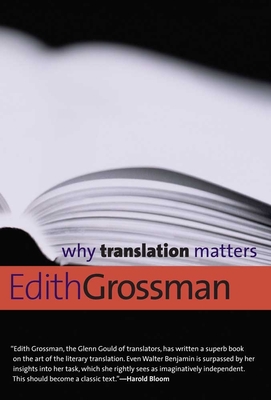 Why Translation Matters (Why X Matters Series)
Paperback

* Individual store prices may vary.
Other Editions of This Title:
Hardcover (3/1/2010)
Description
From the celebrated translator of Cervantes and Garciá Márquez, a testament to the power of the translator's art 

Why Translation Matters argues for the cultural importance of translation and for a more encompassing and nuanced appreciation of the translator's role. As the acclaimed translator Edith Grossman writes in her introduction, "My intention is to stimulate a new consideration of an area of literature that is too often ignored, misunderstood, or misrepresented."
For Grossman, translation has a transcendent importance: "Translation not only plays its important traditional role as the means that allows us access to literature originally written in one of the countless languages we cannot read, but it also represents a concrete literary presence with the crucial capacity to ease and make more meaningful our relationships to those with whom we may not have had a connection before. Translation always helps us to know, to see from a different angle, to attribute new value to what once may have been unfamiliar. As nations and as individuals, we have a critical need for that kind of understanding and insight. The alternative is unthinkable."
Throughout the four chapters of this bracing volume, Grossman's belief in the crucial significance of the translator's work, as well as her rare ability to explain the intellectual sphere that she inhabits as interpreter of the original text, inspires and provokes the reader to engage with translation in an entirely new way.
Praise For Why Translation Matters (Why X Matters Series)…
"Grossman and others like her continue to offer us enlightenment. . . . [The subject] is passionately explored and patiently explained."—Richard Howard, New York Times Book Review
"In this slim but powerful volume, Edith Grossman argues that translation performs a function that is too often ignored or misunderstood."—Edward King, Sunday Times
"A passionate defense of the translator's art."—Peter Terzian,
The Boston Globe
"A brief, forceful defense of [translation]."—Hillel Italie,
The Associated Press
"Grossman writes with passion and clarity, and with a wisdom acquired through decades of practice. . . .
Why Translation Matters
is well argued and stylishly written. Or, to put it another way, it is both able and seamless."—Daniel Hahn,
Times Literary Supplement
"Required reading for publishers the world over. . . . It should also be given to all reviewers, agents, writers and readers. . . . In clean language that is a pleasure to read, Grossman argues why and how a good translation is just that."—Julie Rose, The Australian
"This is a valuable book and a valiant effort to explain the importance of translation."—Chad Post,
The Quarterly Conversation
"[Grossman's] investigation of the broad-reaching societal benefits of translated texts—which allow for exchange of ideas and insight—is captivating and refreshing."—
Choice
"Grossman is one of the multilingual crowd's best, and she explains exactly why this skill of decoding and reconstruction of an author's words, rhythm and intent is so important."—
San Francisco Chronicle
Selected as a Choice Outstanding Academic Title for 2010 in the Language & Literature category
"Edith Grossman, the Glenn Gould of translators, has written a superb book on the art of the literary translation. Even Walter Benjamin is surpassed by her insights into her task, which she rightly sees as imaginatively independent. This should become a classic text."—Harold Bloom
Yale University Press, 9780300171303, 160pp.
Publication Date: March 8, 2011
About the Author
Edith Grossman is the acclaimed translator of Gabriel García Márquez, Mario Vargas Llosa, Carlos Fuentes, Mayra Montero, and many other distinguished Spanish-language writers. Her translation of Don Quixote is widely considered a masterpiece. The recipient of numerous prizes for her work, she was awarded the Ralph Manheim Medal for Translation by PEN in 2006, an award in literature from the American Academy of Arts and Letters in 2008, a Guggenheim Fellowship in 2009, and the Queen Sofía Spanish Institute Translation Prize in 2010. She is a member of the American Academy of Arts and Sciences. She lives in New York.