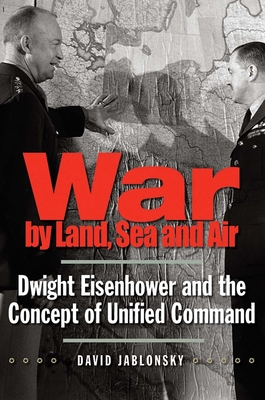 War by Land, Sea, and Air (Paperback)
Dwight Eisenhower and the Concept of Unified Command (Yale Library of Military History)
Yale University Press, 9780300171358, 400pp.
Publication Date: May 31, 2011
Other Editions of This Title:
Hardcover (3/23/2010)
* Individual store prices may vary.
Description
In this book a retired U.S. Army colonel and military historian takes a fresh look at Dwight D. Eisenhower's lasting military legacy, in light of his evolving approach to the concept of unified command. Examining Eisenhower's career from his West Point years to the passage of the 1958 Defense Reorganization Act, David Jablonsky explores Eisenhower's efforts to implement a unified command in the U.S. military—a concept that eventually led to the current organization of the Joint Chiefs of Staff and that, almost three decades after Eisenhower's presidency, played a major role in defense reorganization under the Goldwater-Nichols Act. In the new century, Eisenhower's approach continues to animate reform discussion at the highest level of government in terms of the interagency process.
About the Author
David Jablonsky is a retired U.S. Army infantry colonel and is a graduate of the U.S. Army Command and Staff College and the U.S. Army War College. His awards and decorations include the Silver Star and Purple Heart. He is a Distinguished Fellow of the U.S. Army War College at Carlisle, PA, where as professor of national security affairs he held the Elihu Root Chair of Strategy; the George C. Marshall Chair of Military Studies; and the Dwight D. Eisenhower Chair of National Security Studies. He lives in Carlisle, PA.