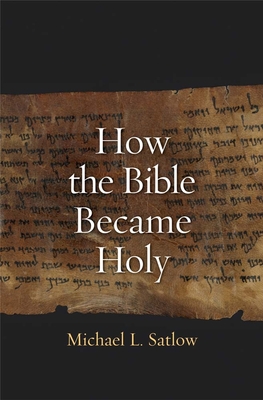 How the Bible Became Holy
Hardcover

* Individual store prices may vary.
Other Editions of This Title:
Paperback (4/28/2015)
Description
In this startling reinterpretation of biblical history, a leading scholar shows how the Bible became the sacred text it is today

In this sweeping narrative, Michael Satlow tells the fascinating story of how an ancient collection of obscure Israelite writings became the founding texts of both Judaism and Christianity, considered holy by followers of each faith. Drawing on cutting-edge historical and archeological research, he traces the story of how, when, and why Jews and Christians gradually granted authority to texts that had long lay dormant in a dusty temple archive. The Bible, Satlow maintains, was not the consecrated book it is now until quite late in its history.

He describes how elite scribes in the eighth and seventh centuries B.C.E. began the process that led to the creation of several of our biblical texts. It was not until these were translated into Greek in Egypt in the second century B.C.E., however, that some Jews began to see them as culturally authoritative, comparable to Homer's works in contemporary Greek society. Then, in the first century B.C.E. in Israel, political machinations resulted in the Sadducees assigning legal power to the writings. We see how the world Jesus was born into was largely biblically illiterate and how he knew very little about the texts upon which his apostles would base his spiritual leadership.

Synthesizing an enormous body of scholarly work, Satlow's groundbreaking study offers provocative new assertions about commonly accepted interpretations of biblical history as well as a unique window into how two of the world's great faiths came into being.
Praise For How the Bible Became Holy…
"Satlow proposes new, interesting, and controversial answers to how and when the Bible received its authority as a 'holy' book. Impressive in its scope, daring in its claims, masterful in its scholarship, Satlow's analysis reaches surprising historical conclusions that will challenge readers about how they understand the Bible—its origin, its character, and above all its status as a sacred collection of books, the 'authoritative' canon of Scripture."—Bart D. Ehrman, University of North Carolina at Chapel Hill
— Bart D. Ehrman

"Michael Satlow gracefully challenges fundamental assumptions about the nature of Biblical authority in this powerful and important book. Prepare for a fascinating exploration of the changing ways in which Jews and Christians encountered the holy in divine oracles, sacred books, and the people who interpret them."—Karen L. King, Harvard University
 
— Karen L. King

"How the Bible Became Holy is a lucid, learned and elegant guide to the history and ideas that gave us our holy books and changed the world."—Rabbi David Wolpe, Sinai Temple, author of Why Faith Matters
— David Wolpe

"Satlow is extremely well-versed in the scholarship and he very innovatively interprets known sources and arranges his interpretations coherently. This is a book that will shake the field."—Evyatar Marienberg, The University of North Carolina at Chapel Hill
— Evyatar Marienberg

"This remarkable book will change the way you think about the Bible."—A.J. Jacobs, author of The Year of Living Biblically
— A.J. Jacobs

"Thorough and impressive."—Rathe Miller, Philadelphia Inquirer
— Rathe Miller

"The author's knowledge and his resources, both literary and archaeological, are vast. . . . Regardless of the reader's familiarity with the material, the author's expertise cannot be doubted."—Kirkus Reviews
— Kirkus Reviews

"Raises vital questions about one of the most important books in history. . . . [Satlow's] command of the broad outline of ancient history in this region impresses. . . . To articulate the intricacies of the Bible's history would overwhelm most historians. It is a complex story, but one that Satlow narrates with bold ingenuity and conviction."—Timothy Michael Law, Los Angeles Review of Books
— Timothy Michael Law

"How the Bible Became Holy traces how Jewish texts in circulation across many centuries in the ancient world came to assume religious authority. Many of [Satlow's] findings were revelatory to me."—Howard Freedman, JWeekly Off the Shelf
— Howard Freedman

"[Satlow] writes for the biblically adventurous and curious reader . . . the sheer range of ideas here [is] dazzling."—Alice Camille, U.S. Catholic
— Alice Camille
Yale University Press, 9780300171914, 368pp.
Publication Date: April 15, 2014
About the Author
Michael L. Satlow is Professor of Religious Studies and Judaic Studies at Brown University. He lives in Providence, RI.
or
Not Currently Available for Direct Purchase