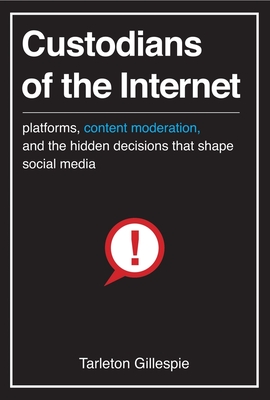 Custodians of the Internet
Platforms, Content Moderation, and the Hidden Decisions That Shape Social Media
Hardcover

* Individual store prices may vary.
Other Editions of This Title:
Paperback (8/24/2021)
Description
A revealing and gripping investigation into how social media platforms police what we post online—and the large societal impact of these decisions

Most users want their Twitter feed, Facebook page, and YouTube comments to be free of harassment and porn. Whether faced with "fake news" or livestreamed violence, "content moderators"—who censor or promote user‑posted content—have never been more important. This is especially true when the tools that social media platforms use to curb trolling, ban hate speech, and censor pornography can also silence the speech you need to hear.
 
In this revealing and nuanced exploration, award‑winning sociologist and cultural observer Tarleton Gillespie provides an overview of current social media practices and explains the underlying rationales for how, when, and why these policies are enforced. In doing so, Gillespie highlights that content moderation receives too little public scrutiny even as it is shapes social norms and creates consequences for public discourse, cultural production, and the fabric of society. Based on interviews with content moderators, creators, and consumers, this accessible, timely book is a must‑read for anyone who's ever clicked "like" or "retweet."
Praise For Custodians of the Internet: Platforms, Content Moderation, and the Hidden Decisions That Shape Social Media…
"An accessible and wide-ranging introduction to the dirty work of cleaning up the internet."—Anna Lauren Hoffmann,
Science
"The book cannot be more timely for a popular audience, and Gillespie's highly readable prose makes
Custodians of the Internet
a critical must-read for anyone trying to operate in and get a handle on our increasingly social media–saturated world."—Sarah Whitcomb Laiola,
Media Industries Journal
"[Gillespie's] detail, breadth, and depth are amazing and refreshing. . . . For university courses,
Custodians of the Internet
is ideally suited for undergraduate or graduate students given the book's readability and conceptual accessibility. These same traits make it a great entry point for audiences who adhere to the faith that technology cannot be biased, replicate bias, or foster structural racism. For faculty and staff reading groups or professional development, this book offers a pleasant, engaging read as well as relevant content. This is a well-written, accessible, and engaging read on one of the Internet's most pervasive problems."—Gregory Zobel,
Technical Communication
Finalist for the 2019 PROSE awards, Media and Cultural Studies category
"In this lively and entertaining book, Tarleton Gillespie shows us how social media regulate our speech in many different ways, some overt and some hidden. He explains why content moderation is not a peripheral function of social media, but central to their very existence."—Jack Balkin, Yale Law School
"Online platforms are defining our technological landscape, shaping our lives online and off. Custodians of the Internet is the exquisitely-drawn map that shows us how they do it."—Jonathan Zittrain, author of The Future of the Internet and How to Stop It
"In this timely and important book, Gillespie deftly reveals the factors that shape social media platforms, and thus our world. Clear-eyed and incisive, a must-read for anyone interested in the influence of platforms, the forces that structure this influence, and crucially how to move forward."—Zeynep Tufekci, contributing opinion writer for
The New York Times
and author of
Twitter and Tear Gas
"Truly stellar. Gillespie's analysis deftly contextualizes moderation policies on social media platforms, and illuminates how the platforms' underlying values are baked into these policies. The result is essential reading."—Whitney M. Phillips, author of
This Is Why We Can't Have Nice Things: Mapping the Relationship Between Online Trolling and Mainstream Culture
"No one knows how digital platforms are shaping our lives better than Tarleton Gillespie. This book is an essential guide to the social and technical processes that animate our new media – and to the principles by which we might put them to more democratic ends."—Fred Turner, author of The Democratic Surround: Multimedia and American Liberalism from World War II to the Psychedelic Sixties
Yale University Press, 9780300173130, 304pp.
Publication Date: June 26, 2018
About the Author
Tarleton Gillespie is a principal researcher at Microsoft Research New England and an affiliated associate professor at Cornell University. He cofounded the blog Culture Digitally.
or
Not Currently Available for Direct Purchase