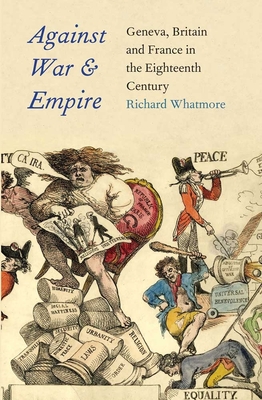 Against War and Empire (Hardcover)
Geneva, Britain, and France in the Eighteenth Century (The Lewis Walpole Series in Eighteenth-Century Culture and History)
Yale University Press, 9780300175578, 416pp.
Publication Date: July 31, 2012
* Individual store prices may vary.
Description
As Britain and France became more powerful during the eighteenth century, small states such as Geneva could no longer stand militarily against these commercial monarchies. Furthermore, many Genevans felt that they were being drawn into a corrupt commercial world dominated by amoral aristocrats dedicated to the unprincipled pursuit of wealth. In this book Richard Whatmore presents an intellectual history of republicans who strove to ensure Geneva's survival as an independent state. Whatmore shows how the Genevan republicans grappled with the ideas of Rousseau, Voltaire, Bentham, and others in seeking to make modern Europe safe for small states, by vanquishing the threats presented by war and by empire.
About the Author
Richard Whatmore is professor of intellectual history and the history of political thought at the University of Sussex.
Praise For Against War and Empire: Geneva, Britain, and France in the Eighteenth Century (The Lewis Walpole Series in Eighteenth-Century Culture and History)…
"Whatmore uncovers the considerable European intellectual impact of a small group of eighteenth-century Genevan reformers, who called themselves the Représentants. . . . In telling their story Whatmore reveals how political Adam Smith's political economy became in the final decades of the eighteenth century and into the nineteenth century."—Philippe Steiner, Paris-Sorbonne University
— Philippe Steiner
"The fate of small states in a world of competing commercial hegemons is a contemporary quandary with Enlightenment roots. Richard Whatmore's deeply researched, tightly written study shows that a surprising number of those roots sprang from Geneva. Scholars of political thought, international relations and the rise and fall of empires in the late eighteenth century will all have to take account of this masterful book."—David Armitage, Harvard University
— David Armitage
"Whatmore expertly narrates the attempts of Genevan radicals to transform European power politics and, in so doing, offers fascinating  insights into Rousseau's Genevan and democratic credentials, emphasizing his relative conservatism and heterodoxy when compared to his Genevan friends and followers."—Helena Rosenblatt, The Graduate Center, City University of New York
— Helena Rosenblatt

"Against War and Empire offers a distinguished contribution to the history of modern political thought, rich in its erudition and masterful in its insights. The central challenge facing the celebrated advocates of liberty and reform Whatmore examines in this book remains timely and urgent today: how to preserve the freedom and welfare of small states in a political world dominated by major powers with global reach and imperial ambitions."—David Lieberman, University of California, Berkeley
— David Lieberman
or
Not Currently Available for Direct Purchase