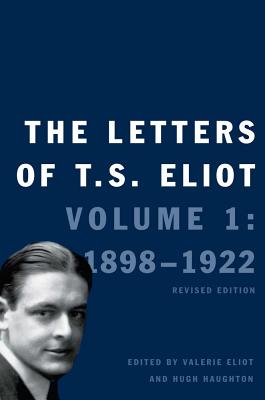 The Letters of T. S. Eliot
Volume 1: 1898-1922
Hardcover

* Individual store prices may vary.
Other Editions of This Title:
Hardcover (9/20/2011)
Description
In two highly anticipated volumes, the correspondence of the twentieth century's eminent man of letters, from youth to early manhood

Volume One: 1898–1922 presents some 1,400 letters encompassing the years of Eliot's childhood in St. Louis, Missouri, through 1922, by which time the poet had settled in England, married his first wife, and published The Waste Land. Since the first publication of this volume in 1988, many new materials from British and American sources have come to light. More than two hundred of these newly discovered letters are now included, filling crucial gaps in the record and shedding new light on Eliot's activities in London during and after the First World War.
Volume Two: 1923–1925 covers the early years of Eliot's editorship of The Criterion, publication of The Hollow Men, and his developing thought about poetry and poetics. The volume offers 1,400 letters, charting Eliot's journey toward conversion to the Anglican faith, as well as his transformation from banker to publisher and his appointment as director of the new publishing house Faber & Gwyer. The prolific and various correspondence of this volume testifies to Eliot's growing influence as cultural commentator and editor.
Praise For The Letters of T. S. Eliot: Volume 1: 1898-1922…
"[A] vast treasure house . . . Eliot's letters are like what he once called poetry itself: the highest form of entertainment."—Anthony Brandt
— Anthony Brandt
"[Eliot's] success is an improbable and amazing story, and the publication, in two volumes, of his correspondence from 1898 to 1925 . . . lets us watch that story as it was unfolding, day by day, from the inside."—Louis Menand,
New Yorker
— Louis Menand
"Weirdly gripping . . . one never knows when one might be stopped dead by a letter of singular importance."—James Longenbach,
The Nation
— James Longenbach
"Better than any biography could, these letters capture the unremitting nature of Eliot's anxieties, without which he would not have written his greatest poems."—Abigail Deutsch,
Wall Street Journal
— Abigail Deutsch
"[A] retrospective tome of introspective delight . . . Intimate revelations . . . A candid portrait of an artist as a young man."—
Publishers Weekly
— Publishers Weekly
"These letters do reveal the anxieties boiled down into
The Waste Land
. They also show us the graces this browbeaten life possessed."—William Logan,
New York Times Book Review
— William Logan
"[Of] inestimable value . . . long-awaited [and] definitive."—Jeff Simon,
Buffalo News
— Jeff Simon
"In these adroitly annotated volumes, the poet's conquest of literary London is brought brilliantly to life."—Edward Short,
Weekly Standard
— Edward Short
"[A] trove of important correspondence . . . Taken together these volumes reveal the personal, economic, and social exigencies that impacted Eliot and his work and provide new, detailed literary history of Eliot and his age."—L.L. Johnson,
Choice
— L.L. Johnson
"These two absorbing volumes . . . will fascinate every lover of literature, not just poetry."—Benjamin Ivry, San Francisco Chronicle
— Benjamin Ivry

"These chunky tomes of his correspondence allow us to follow day by day, drop by harrowing drop, Eliot's 'rudely forced' metamorphosis into the poet of hysteria whose sufferings enabled him, like Dostoevsky, to find 'the entrance to a genuine and personal universe.'"—Mark Ford, New York Review of Books
— New York Review of Books
Yale University Press, 9780300176452, 912pp.
Publication Date: September 20, 2011
About the Author
Valerie Eliot, née Esmé Valerie Fletcher, is the widow and literary executor of the Nobel Prize–winning poet T. S. Eliot. She became Eliot's second wife in 1957, and their marriage continued until his death in 1965. In addition to editing the first two volumes of the poet's letters, she has edited T. S. Eliot: The Waste Land, a Facsimile & Transcript of the Original Drafts. She lives in London. Hugh Haughton is professor of English at the University of York, and author of The Poetry of Derek Mahon.
or
Not Currently Available for Direct Purchase