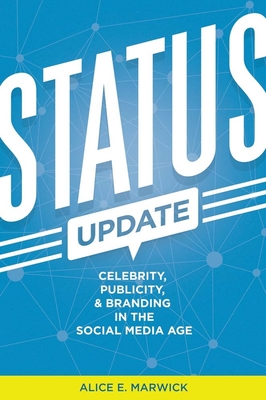 Status Update
Celebrity, Publicity, and Branding in the Social Media Age
Hardcover

* Individual store prices may vary.
Other Editions of This Title:
Paperback (1/13/2015)
MP3 CD (6/21/2016)
Description
Social media, once heralded as revolutionary and democratic, have instead proved exclusionary and elitist

Social media technologies such as YouTube, Twitter, and Facebook promised a new participatory online culture. Yet, technology insider Alice Marwick contends in this insightful book, "Web 2.0" only encouraged a preoccupation with status and attention. Her original research—which includes conversations with entrepreneurs, Internet celebrities, and Silicon Valley journalists—explores the culture and ideology of San Francisco's tech community in the period between the dot com boom and the App store, when the city was the world's center of social media development. Marwick argues that early revolutionary goals have failed to materialize: while many continue to view social media as democratic, these technologies instead turn users into marketers and self-promoters, and leave technology companies poised to violate privacy and to prioritize profits over participation. Marwick analyzes status-building techniques—such as self-branding, micro-celebrity, and life-streaming—to show that Web 2.0 did not provide a cultural revolution, but only furthered inequality and reinforced traditional social stratification, demarcated by race, class, and gender.
Praise For Status Update: Celebrity, Publicity, and Branding in the Social Media Age…
"Marwick makes a compelling case that the rhetoric does not always match the reality, particularly when it comes to social media."—Ravi Mattu, Financial Times

"A must-read for anyone interested in the culture of the tech world and in the techniques of status-building in contemporary digital society."—Finola Kerrigan, Times Higher Education Supplement


"[Marwick is] a keen ethnographer of Silicon Valley."—Sue Halpern, New York Review of Books

"Marwick brilliantly gets beneath the shiny exterior of the Web 2.0 startup scene to uncover the ways in which geeks, entrepreneurs, and technologists use their creations to jockey for status and seek attention. This book is critical for all who care about or use social media."—Danah Boyd, Microsoft Research

"With thoughtfulness and rigor, Marwick explains the importance of major social networks from cultural, economic, and human standpoints. Status Update offers a true understanding of what it means to share ourselves online, with a healthy skepticism about Silicon Valley's utopian promises."—Anil Dash, ThinkUp

"San Francisco and environs have long been the home of American dreaming. In this fascinating book, Marwick interrogates Silicon Valley's recent dream: Web 2.0 and the tools and behaviors it spawned."—Clay Shirky, author of Cognitive Surplus

"Status Update is a deft and graceful guide to the topsy-turvy digital world of free labor, self-branding and micro-celebrity. If you're still wondering why you sent that last Tweet—and whether it will really help you get a job, a reputation, or a new kind of life—read this book."—Fred Turner, author of From Counterculture to Cyberculture: Stewart Brand, the Whole Earth Network, and the Rise of Digital Utopianism

"In an industry thick with mouth-breathing fans, Marwick is a long-trusted observer of the Silicon Valley 'scene.' Readers are sure to love and loathe the details she provides of America's newest version of a rock star:  the twenty-something social media entrepreneur, and they will appreciate her trenchant critique of 'Web 2.0': a term that Marwick argues marks both a moment that has passed, and a discourse that continues to structure what and how we think about social media use."—Terri Senft, author of Camgirls: Celebrity and Community in the Age of Social Networks


Yale University Press, 9780300176728, 368pp.
Publication Date: November 26, 2013
About the Author
Alice E. Marwick is assistant professor, communication and media studies, Fordham University, and the director of the Donald McGannon Communication Research Center. She lives in New York City.
or
Not Currently Available for Direct Purchase