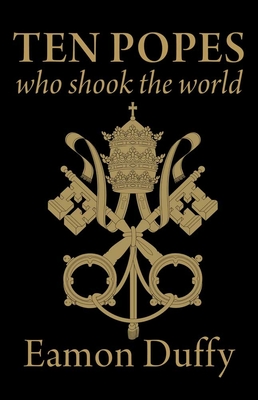 Ten Popes Who Shook the World (Hardcover)
Yale University Press, 9780300176889, 160pp.
Publication Date: November 29, 2011
* Individual store prices may vary.
Description
Of all the men who have served the Catholic Church as pope, who were the ten most influential?

The Bishops of Rome have been Christianity's most powerful leaders for nearly two millennia, and their influence has extended far beyond the purely spiritual. The popes have played a central role in the history of Europe and the wider world, not only shouldering the spiritual burdens of their ancient office, but also in contending with - and sometimes precipitating - the cultural and political crises of their times. In an acclaimed series of BBC radio broadcasts Eamon Duffy explored the impact of ten popes he judged to be among 'the most influential in history'. With this book, readers may now also enjoy Duffy's portraits of ten exceptional men who shook the world.
The book begins with St Peter, the Rock upon whom the Catholic Church was built, and follows with Leo the Great (fifth century), Gregory the Great (sixth century), Gregory VII (eleventh century), Innocent III (thirteenth century), Paul III (sixteenth century), and Pius IX (nineteenth century). Among twentieth-century popes, Duffy examines the lives and contributions of Pius XII, who was elected on the eve of the Second World War, the kindly John XXIII, who captured the world's imagination, and John Paul II, the first non-Italian pope in 450 years. Each of these ten extraordinary individuals, Duffy shows, shaped their own worlds, and in the process, helped to create ours.
About the Author
Eamon Duffy is professor of the history of Christianity, Cambridge University, and fellow and former president of Magdalene College. He is the author of many prizewinning books, among them Fires of Faith, Marking the Hours, and Saints and Sinners, all available from Yale University Press. He lives in Cambridge, UK.
Praise For Ten Popes Who Shook the World…
"Enlightening"—Mary Carroll, Booklist
— Mary Carroll
"Not only is Duffy an elegant stylist; he is the best qualified person in the English-speaking world to write on [this] subject. You will not, therefore, be disappointed in these 10 sketches."—John W. O'Malley, America
— John W. O'Malley
"First presented as radio broadcasts, these 10 insightful profiles from a world-class historian are well worth your time."—Dan Connors, Catholic Digest
— Dan Connors
"[Duffy's] introduction and very selective bibliography are worth the book's price, and his essays are simply brilliant. Academic libraries should obtain this to prove to dubious students that scholarly writing need not be dry or obfuscating, and parish libraries will appreciate the book's
brevity and delightful style. Most highly recommended."—Daniel Boice, Catholic Library World
— Daniel Boice
"[P]erceptive and persuasive . . . Duffy offers brief, lucid narratives and convincing interpretations of the considerable significance of each of the ten popes included."—W.L. Pitts Jr., Choice
— W.L. Pitts Jr.
or
Not Currently Available for Direct Purchase