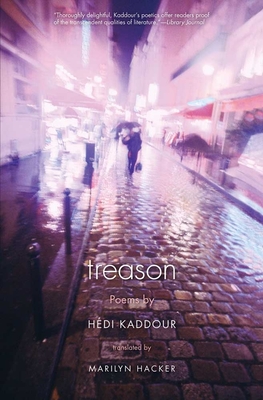 Treason
Paperback

* Individual store prices may vary.
Description
Hédi Kaddour's poetry arises from observation, from situations both ordinary and emblematic—of contemporary life, of human stubbornness, human invention, or human cruelty. With Treason, the award-winning poet and translator Marilyn Hacker presents an English-speaking audience with the first selected volume of his work.
The poetries of several languages and literary traditions are lively and constant presences in the work of Hédi Kaddour, a Parisian as well as a Germanist and an Arabist.  A walker's, a watcher's, and a listener's poems, his sonnet-shaped vignettes often include a line or two of dialogue that turns his observations and each poem itself into a kind of miniature theater piece.  Favoring compact, classical models over long verse forms, Kaddour questions the structures of syntax and the limits of poetic form, combining elements of both international modernism and postmodernism with great sophistication.
Capturing Kaddour's full range of diction, as well as his speed, momentum, and tone, Marilyn Hacker's translations brilliantly bring these poems alive.
Praise For Treason…
  "Thoroughly delightful, Kaddour's poetics offer readers proof of the transcendent qualities of literature."—Library Journal
— Library Journal


"Hacker has done for Hédi Kaddour what John and Bogdana Carpenter and Michael Hoffman have done respectively for the poetry of Zbigniew Herbert and Durs Grünbein, introducing to an English speaking readership a major poet of his language, brilliantly bringing his poetry into our language, creating through her translations work of undeniable achievement, force, and importance."—Lawrence Joseph, author of Into It
— Lawrence Joseph
"The fluency and idiomatic precision of Hacker's translations is remarkable… We don't completely grasp Kaddour's poems in one reading. They slowly reveal their scope and intention as we return to them. And the overall result is of course a portrait of the poet himself: his keen intelligence, his sensory alertness, his humor, his irony, his verbal exuberance, and his uninsistent passion."—Alfred Corn
— Alfred Corn
Yale University Press, 9780300177756, 192pp.
Publication Date: April 24, 2012
About the Author
Hédi Kaddour is the author of five books of poems, two novels, and a book of nonfiction. Marilyn Hacker is an award-winning poet, translator, and critic.