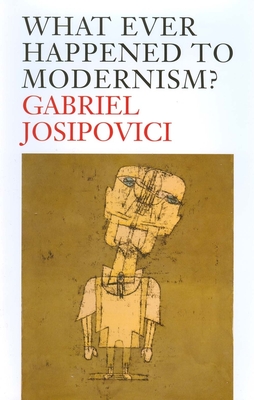 What Ever Happened to Modernism?
Paperback

* Individual store prices may vary.
Description
A personal, penetrating, and polemical account of what Modernism is and how contemporary literature has failed it

The quality of today's literary writing arouses the strongest opinions. For novelist and critic Gabriel Josipovici, the contemporary novel in English is profoundly disappointing—a poor relation of its groundbreaking Modernist forebears. This agile and passionate book asks why.
Modernism, Josipovici suggests, is only superficially a reaction to industrialization or a revolution in diction and form; essentially, it is art coming to consciousness of its own limits and responsibilities. And its origins are to be sought not in 1850 or 1800, but in the early 1500s, with the crisis of society and perception that also led to the rise of Protestantism. With sophistication and persuasiveness, Josipovici charts some of Modernism's key stages, from Dürer, Rabelais, and Cervantes to the present, bringing together a rich array of artists, musicians, and writers both familiar and unexpected—including Beckett, Borges, Friedrich, Cézanne, Stevens, Robbe-Grillet, Beethoven, and Wordsworth. He concludes with a stinging attack on the current literary scene in Britain and America, which raises questions about not only national taste, but contemporary culture itself.
Gabriel Josipovici has spent a lifetime writing, and writing about other writers. What Ever Happened to Modernism? is a strident call to arms, and a tour de force of literary, artistic, and philosophical explication that will stimulate anyone interested in art in the twentieth century and today.
Yale University Press, 9780300178005, 224pp.
Publication Date: October 25, 2011
About the Author
Gabriel Josipovici is a prolific and eminent novelist, literary theorist, critic, and scholar. He is currently research professor at the University of Sussex, where he taught in the School of European Studies for thirty-five years.